10 Marketing Trends To Watch In 2021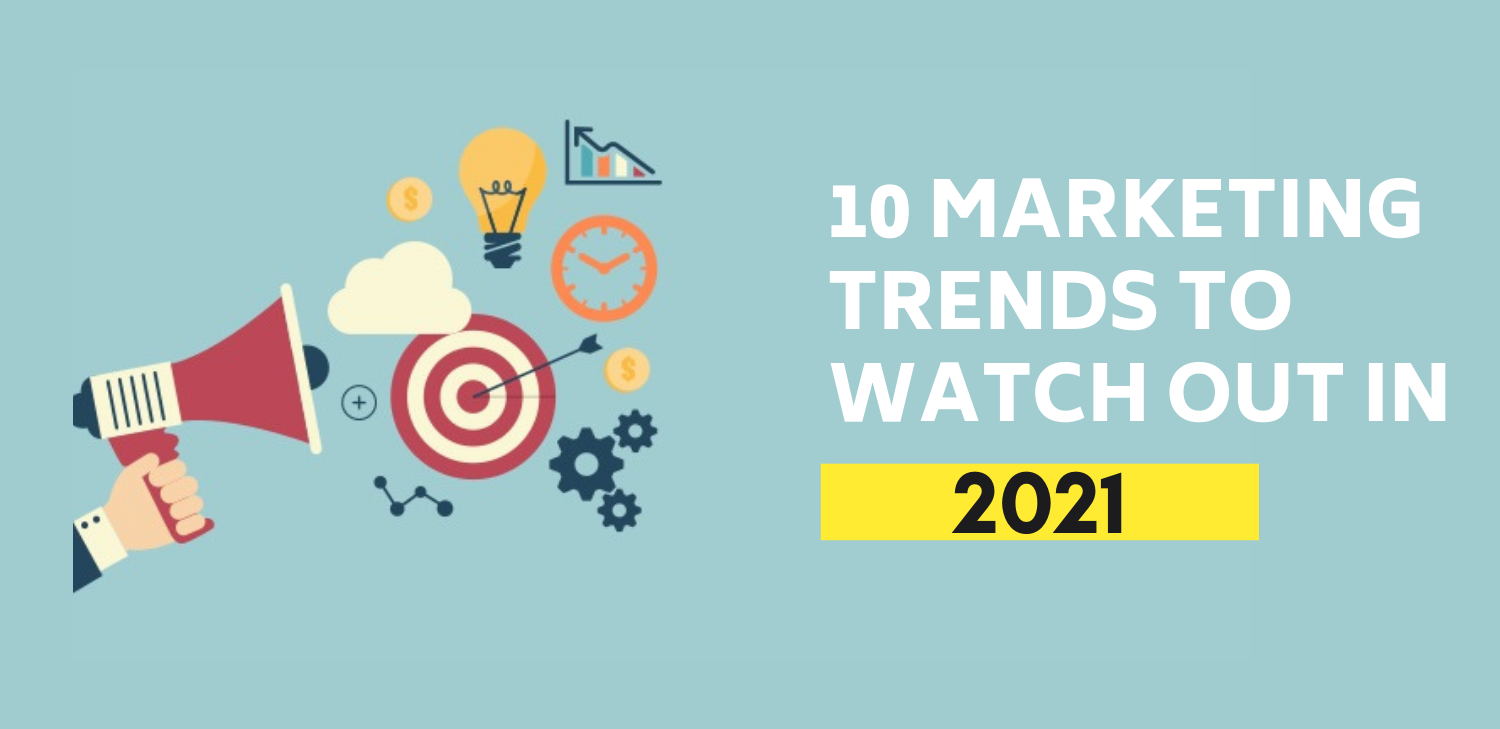 With the growing digitization in the global market, digital marketing trends are also transforming at a much higher pace. What once were only ambitious concepts of the market has today become crucial for many businesses. Digital marketing trends like AI-based solutions, data-driven marketing, and voice search have become the most prominent aspects of the global market's digital transformation.
And why not? After all, all the organizations seeking innovation in their businesses rapidly adopted the latest digital marketing trends. Hence, if you are also willing to be a part of the same community, do not wait!
Read our article to discover the top ten most amazing marketing trends for 2021 that will help you not just survive this competitive world but will make your business the most innovative amongst all your competitors.
#1. Featured Snippets
One of the most popular digital marketing trends for 2021 is features snippets. Gone are the days when the companies worry about being in the first place in Google searches. Today is the era of being in place zero, that is, being in Google's Featured Snippet. Features snippet is the topmost position of the Google searches where the user can find the answers to their questions without clicking on anything.
Although it may sound weird that the users do not click on your website, having ranked on featured-snippet is something beyond that. It not only gives you the privilege of being at the top, but even the voice-based also searches and reads aloud your article/information. Hence, target long-tailed keywords, make points, add videos or engaging images that can speak for your content in a better way. That's the only way to get featured on the top of Google results.
#2. Voice and Image-based Searches
Another vital digital marketing trend for 2021 is the voice and image-based searches. Visual search is not a new concept of the market, but its advancements, especially in e-commerce, have made it more popular than ever. Today, many leading businesses, including Google, have made voice and image-based search a part of their marketing strategy.
And why not? The visual searches help the users get relevant results in less time and effort and enhance the overall searching experience. That's why they have become a vital part of today's digital marketing trend for 2021.
Applications like Google Lens, a groundbreaking AI-based image recognition algorithm, has been extensively used by online users. Apart from that, voice-based searches have also become a common concept for almost all e-commerce websites. Hence, make sure to familiarize yourself with Google-lens and include the voice-search functionality when making any custom website or mobile application.
#3. AI-enabled Advertising
In today's digital era, artificial intelligence has, without a doubt, become the core aspect of the digital marketing sector. Whether we talk about automated marketing campaigns, or voice-based searches, or even chatbots for customer services, AI has taken over a large part of the marketing segment. AI-based marketing, or in other words, Programmatic advertising, is also one such robust aspect of artificial intelligence!
As per eMarketer, almost 86.2% of the digital marketing ads will be automated using AI by the starting of 2021. With programmatic advertising, the companies can automate their ad buying campaigns resulting in better and quality lead conversions. And it's not just that! The AI-based advertising reduces the customer acquisition cost and even offers real-time bidding facilities to the businesses.
#4. Inclusion of AR/VR
The growth of AR/VR technology has shown some rapid improvements in the past few years. Not long back, the companies only thought to have advanced reality technologies to help them visualize things. That's why, when AR/VR emerged in the market, companies readily adopted them, and the digital marketing sector is no exception.
Today, many leading companies are actively leveraging AR-based advertising to promote their brand in the most different yet competitive manner. For example, we have Coca-Cola, a leading soft drink production company, that used augmented reality for promoting their brand on the digital platform. Hence, it can be said that AR/VR will soon be a prominent part of the marketing, and that's why it has been included in the list of top digital marketing trends for 2021.
#5. Mobile-First Indexing
Just a few months ago, every company was concerned only about one thing – their website's user experience. However, we all know that change is the only constant in today's digital world, and so does the digital marketing field. Today, before indexing your page, Google first checks the mobile version of your website and then goes for the desktop version.
By doing that, the search engine giant ranks the pages based on their mobile-first experience. That means the pages with excellent mobile-first indexing will be ranked first, and those with poor will eventually lag. The reason behind that is majorly due to the effective use of smartphones in accessing the online web.
Hence, as a popular digital marketing trend of 2021, enhance your site's mobile experience to rank better and attract and convert more leads into customers.
#6. Engaging Content
Content is king.
The above saying holds even in today's competitive and advancing digital era. Content marketing has always been a matter of interest for users and businesses alike. Interactive content not only has the power to convert more leads but could even engage your customers and make your brand a hit in the market.
Engaging content like quizzes, how-to articles, contests, polls, and blogs on trending topics could help your brand stand apart from your competitors. Apart from making your brand popular, interactive content even increases the engagement time of your users. That means you will eventually have much more time to convert your leads into valuable customers. Hence, try to include content marketing in your digital marketing strategy of 2021.
#7. Chatbot Development
Businesses of all sizes are actively using one of the popular and most advanced AI applications, chatbots today. Apart from making your customer services smooth and efficient, chatbots can help you streamline other lead generation processes. Maybe that's the reason the chatbot development market reached a whopping $65.5 million in 2020.
Moreover, this number is further expected to reach almost $454.8 million by the year 2027! That's huge, as compared to other AI-based applications. The amazing benefits of AI-based chatbots in enhancing the customer experience and automating the tedious lead generation activities paved their way to becoming a leading digital marketing trend of 2021.
#8. Influencer Marketing
Another excellent digital marketing trend of 2021 is influencer marketing. As the name suggests, influencer marketing is all about spreading your brand's name in the market, with word-of-mouth from popular people. The influencer could be well-known celebrities or any other popular firm/ person well-known in your domain.
The impact of influencer marketing has shown some significant results for the advertising of the brands. As per a report, almost 63% of the users have trusted influencers' videos rather than the product claims. Moreover, 58% of the people have bought a product on the recommendation of the influencer. That shows the popularity of influencer marketing in the global market. Hence, try to include this in your digital marketing strategy for 2021.
Nowadays, the concept of youtube influencers is also rising exponentially. Hence, you can even leverage those successful and popular channels to market your brand and reach a greater audience.
#9. Ad Blocker
While the digital marketing trends of 2021 is not all about some positive and advanced changes, it is also concerned with making some real-time changes in your existing marketing strategy. As per the latest source, almost 27% of internet users are expected to use Ad-blocker in 2021. That's why it becomes critical for your business to make some vital changes in how you advertise your brand on the internet.
Many leading organizations have already started to tackle the ad-blocker issue by rectifying the videos/advertisements or eliminating ads from their marketing strategy. Hence, if you also aim to have better quality customers and more leads, the first thing you need to check is how this ad-blockers thing impacts your targets. If it does not affect your traffic, then you are lucky. On the contrary, if it does, put your budget on some other fruitful lead generation activities rather than PPC and ad campaigns.
#10. A/B Testing for SEO
Finally, we have a significant digital marketing trend for 2021, which is actually not a new trend. A/B testing has always remained a critical aspect of digital marketing during the past few years. However, SEO A/B split testing is somewhat new to the marketing sector. With this amazing analysis concept, you can easily locate and eliminate all the variables that do not yield results in your marketing campaigns.
In other words, you can identify all those campaigns that are not effective in generating more leads for your business. Hence, you would save a lot of time and cost and would be able to frame a better and result-oriented digital marketing strategy.
Final Takeaway!
So, those were the top ten most amazing digital marketing trends for 2021. To conclude, we can say that you will need some powerful marketing tools and strong digital marketing trends to survive in today's competitive world. Those trends must be unique, reliable and should satisfy your business and marketing issues efficiently. Hence, try to add some of these unique and result-oriented digital marketing trends of 2021 and witness a huge surge in your leads and website traffic.
Till then, Happy Reading!