An Intricate Guide To Set Off Your Online Food Delivery Journey
Unfolding an online food delivery business has become an easy pie for entrepreneurs with ready-made app development solutions. So, in order to start your independent food delivery business, you need all the above-discussed requirements.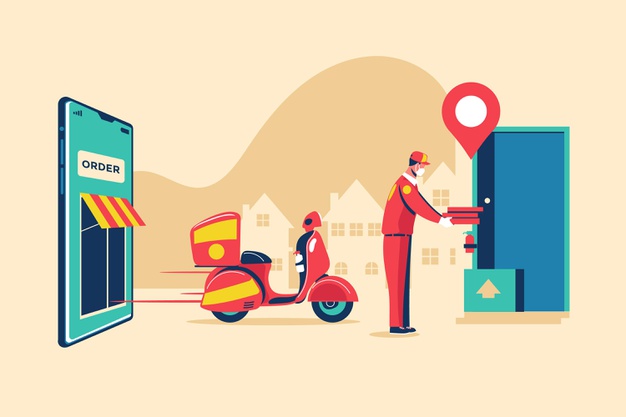 The debate that circles over whether to establish a restaurant app or partnership with third-party apps seem to never end. Both the cases are filled with advantages and disadvantages as well. This write-up will focus on developing a devoted application for your restaurant business.
Individual apps or third-party apps?
Every business owner wishes to stage their business in order to attract consumers. Some prefer third-party apps as they have massive users. Another firm reason to partner with third-party apps is that those apps will take care of the deliveries with their own fleet.
Downsides of partnering with third-party apps
Though gaining spotlight and delivery services may account for the advantages of partnering with third-party apps, there are many downsides. Firstly, the commission charges you pay for the third-party apps will scorch your revenue. On an annual basis, the commission charges paid to the third-party apps will account for more than 30% of your revenue.
Whereas if you establish your own delivery app, you can save revenue. Again, having your own fleet has advantages as well. So, in the following subtopics, we will examine the requisites for developing your food delivery app.
Prime requisites for developing your food delivery app
Delivery vehicles and drivers
To start a fully integrated food delivery business, you need to arrange your own fleet and drivers. There are two ways of hiring vehicles for delivery. Firstly, you can partner with third-party courier companies for delivery vehicles. Else, you can directly invest in purchasing the fleet for your business. For budding businesses, leasing vehicles from outside will be suitable because you can eliminate the maintenance cost. Once your business starts maximizing the profits, you can purchase your fleets.
Similarly, hiring drivers has been made easy as you can source them from agencies. If you wish to employ driving partners on a permanent basis, you can select them from job portals or through ads.
Staff for preparing the delivery
Whether or not you partner with third-party apps, you need to hire staff to prepare the delivery. Usually, restaurants employ staff for packing the deliveries other than the kitchen staff. Once the food gets prepared, the staff will pack the order and hand it over to the delivery person.
Specialized containers for transporting food items
Your order might involve both hot and cold food items. So, in order to deliver such food items, you need insulated bags and coolers. You need to invest in these requirements before starting out your food delivery services.
An additional kitchen space
Let us suppose that you are starting a restaurant with a dine-in facility. Do you know the current trend among restaurateurs? As the craze for delivery services has skyrocketed, restaurateurs are implementing additional kitchen spaces to serve the increasing demand for deliveries. This concept of having an extra kitchen space is called a cloud kitchen.
The benefits associated with the establishment of cloud kitchens are immense. Firstly, with additional space, you can prepare more orders in parallel. Next, with your cloud kitchens distributed in different locations, you can deliver the orders more quickly.
Once your restaurant picks up on getting orders, you can consider investing in cloud kitchens.
A dedicated app for ordering
Until now, we have been going through different requirements like drivers, staff, delivery vehicles, and containers. In addition to these requirements, you need a dedicated app for your business. Your food ordering app will help you out in different ways, right from familiarising your business to handling business operations.
In the next section, we shall see the app development solution along with the crucial features.
Intense perks of UberEats like app development
Why do you think that this subtopic is prefixed with the adjective" intense benefits?" UberEats like apps are ready-made, thereby letting you launch the app right away. Investing in ready-made app development will help you to save time and capital money. 
Tracking the deliveries – With a tracking system, you can oversee the delivery of orders. The delivery person's app has the live tracking feature, and his/her location can be tracked by both users and the admin. 
Payment channels – Digital payments are becoming the first choice for users to avail of online services. While developing your food ordering app, multiple payment options should be one of the prime requirements. Based on your requirements, the app developer will include the application stack for each payment mode.
Communication channels – Your app should be integrated with VoIP-based calling and live chat features. Generally, the VoIP calling feature hides the mobile number so that users or delivery persons can communicate without revealing their mobile numbers.
Reorder – The reordering feature should be one of the mandatory features of your app. This feature makes the job of users who prefer ordering the same food items repetitive. 
Push notifications – Sending reminders, payment notifications, order status, etc., are alerted to users through push notifications.
Final thoughts
Unfolding an online food delivery business has become an easy pie for entrepreneurs with ready-made app development solutions. So, in order to start your independent food delivery business, you need all the above-discussed requirements. Good luck with your venture!