Best File Syncing Solutions According To Impartial Reviews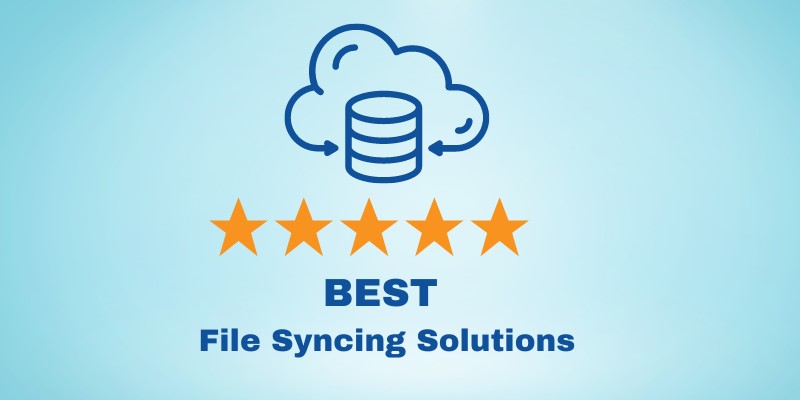 File synchronization means that any changes made to a file saved on a device or the cloud is updated so that each copy of the file is the latest version. One of the major advantages of file syncing solutions is that it allows organizations with people in different locations to collaborate and share files stored in different locations.
File syncing forms an integral part of the backup process in order to ease the management and recovery of data. The best file syncing solutions these days are delivered through cloud services, edge nodes and data centers which simplifies saving and syncing files as well as improving security. 
Like our number 1 choice, EnduraData, syncing solutions often provide more file management features like user access and permissions to control file sharing and collaborative work. This is extremely important when working with confidential documents. 
Security is a major priority for file syncing solutions. Strict cybersecurity protocols are in place to ensure that data transmissions are safe in order to reduce the possibility of data leaks.
Our top picks meet all the criteria one would look for when picking the best file syncing solutions currently available.
#1 Real-time cross-platform replication and synchronization solution.
Key features
Backups and real-time file replication

Scheduled syncing

Excellent security and file protection

Comprehensive tools and features
Overview
EnduraData is our #1 pick for a number of reasons. The solution is versatile and can be used from small to large businesses as well as government agencies. In fact it is currently used by the Social Security Administration (SSA) which is one of the government agencies that deals with highly critical data. The solution ticks all the boxes when it comes to security.
EnduraData also offers automated, scheduled and on demand data replication between a variety of file storage locations. Only file changes are replicated, reducing data synchronization time which allows for large amounts of data transmissions. Synchronization is done between physical or virtual servers and the solution is integratable with a number of applications for on-demand file replication.
In addition, the solution offers an array of additional features like file meta data sync such as permissions, activity tracking and audit trail management tools. It is an easy to use system with great customer support, making it amazing value for money.
Online office storage and syncing service.
Key Features
Integration with Office 365

Excellent interface

File sharing and collaborative editing
Overview
Although Microsoft OneDrive can be used as a standalone service, it is when partnered with Office 365 that the service really shines. It has a very attractive web and mobile interface that is easy to use. The solution also allows for file sharing and real-time collaborative editing. This means that multiple users can work on the same document at the same time.
As far as file syncing, OneDrive can sync settings and applications on different devices as well as file and folder syncing. As an extra layer of security, the "Personal Vault"  allows for two-factor authentication. Files in the vault are encrypted by BitLocker which prevents accidental sharing. 
Syncing solution for personal or business use.
Key Features
End-to-end encryption

Unlimited data transfer

Application integration
Overview
Sync.com comes with a variety of features at a reasonable price. It provides strong end-to-end data encryption which means only the sender and recipient have access to the shared data. 
The solution can integrate with Microsoft 365 and offers mobile applications for Android as well as IOS users for collaboration on the go. Even the entry level plans come with unlimited data transfer which is a huge benefit for those sharing large files on a regular basis.
File sharing and syncing with advanced features.
Key Features
File sharing and collaboration

Easy to use

Free Version
Overview
Syncplicity is an easy to use file sharing and syncing solution that gives its users access to files from anywhere on any device. It offers a free version which is great for individual users, but for more advanced features like AD integration, mobile device management and remote wipe, a paid plan is required.
The solution offers mobile applications that work great on the go as well as a virtual network drive that simplifies cloud syncing. Security is on par with some other syncing solutions with the use of TLS tunneling and standard 256-bit AES encryption for file transfers.
Backup and synchronization with remote file access.
Key Features
Real-time data transfers

File backups

Easy set up and use
Overview
GoodSync is a well-known name and has been around for many years. The solution is great for any business that has a centralized management and reporting system. It offers real-time automated syncing with data backups for easy recovery. This allows for access and editing of files from any location in a secure manner.
In addition, the GoodSync Control Center allows businesses to control and monitor servers and workstations remotely. This is a great tool for accurate reporting and tracking of file activity. 
Cloud based storage and syncing with excellent storage capabilities.
Key Features
Generous free storage

Easy to use

Synchronization and collaboration
Overview
Google Drive is a cloud based storage and syncing solution that comes with any Google account. Free users get up to 15GB of storage space which can be upgraded to 5TB with paid plans. The solution can also act as a backup storage space for files located on their device which saves space by eliminating duplication. 
It allows for file sharing and collaboration with real-time syncing. GoogleDrive is perfect for individuals that are looking for an easy to use service and do not need all the bells and whistles.
Conclusion
There are many file syncing solutions out there, but our top pick, EnduraData ticks all the boxes. It provides file sharing, syncing, backup and security all in one place with many other features on offer. It is difficult to beat EnduraDatas' value for money. 
Users can get a free trial of EnduraData replication software in order to test the solution themselves or contact them for more information.