Blockchain in the Real Estate Industry: 7 Revolutionary Approaches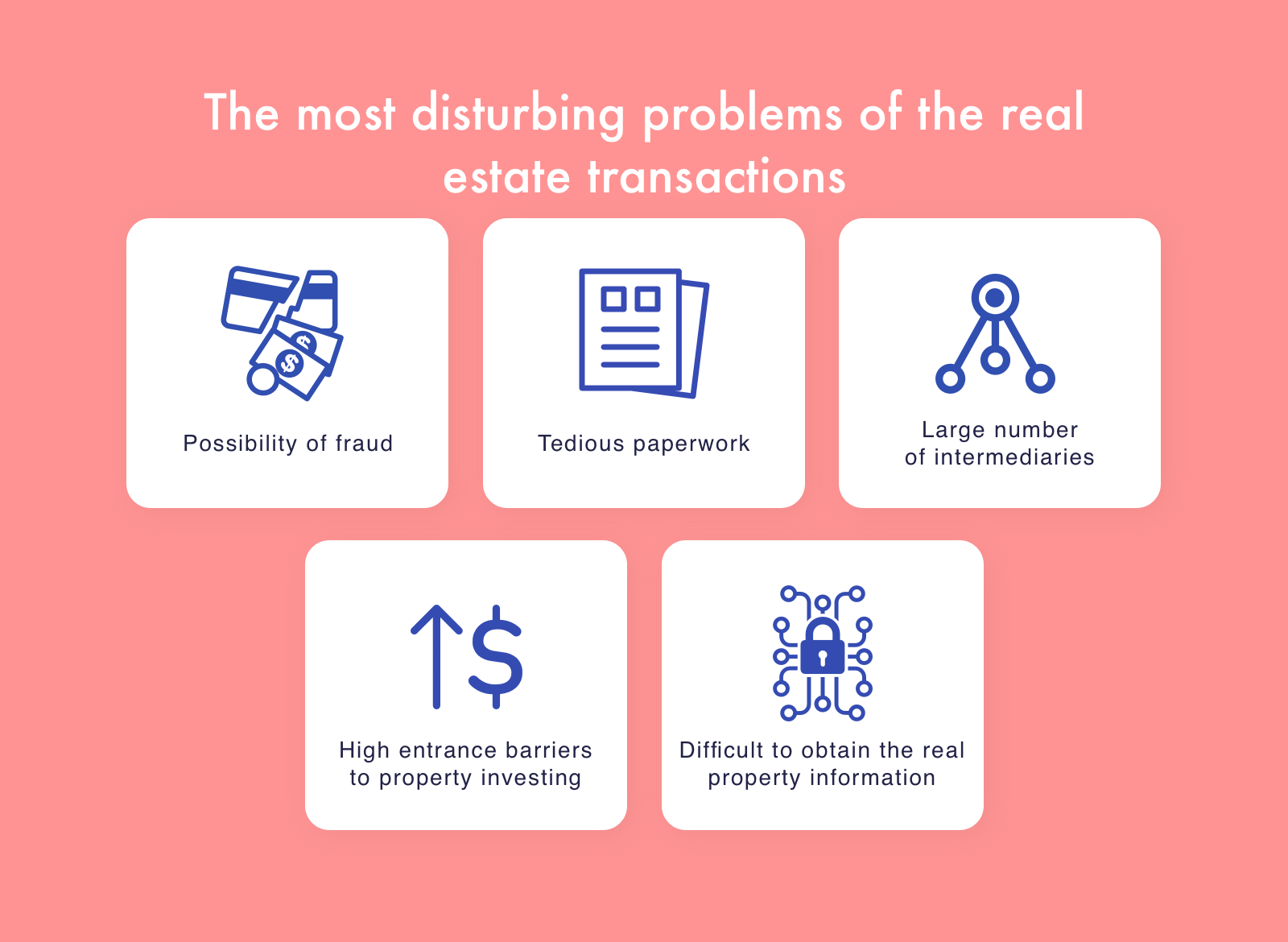 It is generally believed that workers of the real estate industry need to have iron nerves. This is not a joke, as this industry is traditionally considered one of the most complicated due to huge volumes of paperwork, a lot of legal issues, and time-consuming multi-stage procedures. Happily, there is, at least, one revolutionary technology, which can completely change the situation. We are speaking about blockchain, which is mistakenly associated only with bitcoins by many people. In fact, this is a breakthrough technology of the future, and some real estate businesses have already made use of it. Keep on reading to find out seven ways to revolutionize real estate with the help of the blockchain technology.
Pressing Issues of the Real Estate Industry
Over 70% of Americans believe that buying or/and selling property is a complicated and time-consuming process. Here are the main problems of the real estate sector in the US.
High probability of encountering fraud. One needs to double-check all the papers to make sure they are correct and not falsified.
A lot of paperwork, which "eats" most of your time. You have to concentrate on papers instead of your potential buyers.
The entrance fee is high. It's almost impossible to enter the market without solid seed capital.
A lot of intermediaries. The more parties are involved in the process the more extra fees you will have to pay.
Information about the property is hard to access. Usually, all the information is available on a paid basis only. Moreover, it often turns out to be incorrect.
How Can Blockchain Improve the Real Estate Sector?
Blockchain is an innovative technology that has found its application in many industries, including the real estate sector. If compared to the traditional approach, blockchain real estate offers some important benefits.
Blockchain Makes It Easier to Search for Property
Currently, people have to use multiple listing services (MLS) for seeking suitable real estate objects. However, there are a lot of problems with these services: while charging fees for access to the data, they provide information of questionable quality (outdated, inaccurate, etc.). As there is no single authority responsible for the accuracy of listings, everything depends on the credibility and honesty of real estate brokers.
With a decentralized network offered by blockchain, the data is distributed via a P2P channel. All the information is available for free, which adds convenience to both brokers and real sellers and buyers.
Due Diligence Becomes Faster and Simpler
Due Diligence is a complex process that takes a lot of time and doesn't let you buy or sell the property as fast as you wish. Besides, it is rather costly because different aspects are checked by different specialists. Moreover, the inspection of papers is conducted manually, so mistakes caused by the human factor are quite common.
The blockchain technology lets store all the papers in the digital format and find them immediately. The due diligence process can be automatized, which, in turn, helps to minimize mistakes and inaccuracies.
Intermediaries Are Not Needed Anymore
The number of intermediaries in the real estate sector has grown enormously. Nowadays, one can spend up to 5% of the property cost on the service of various assessors, realtors, attorneys, etc. With blockchain, their services become unnecessary, as the decentralized platform itself becomes the only intermediary, which helps process every single transaction quickly, securely, and with minimum hassle.
Smart Contracts Allow Fast and Secure Money Transfers
This benefit is linked to the previous one. A traditional financial transaction in the real estate sector goes through numerous intermediaries. The process involves banks, auditors, lawyers, brokers, etc. Smart contracts offered by blockchain don't require third party involvement. Instead, they offer automatic, fully transparent, and 100 reliable payments directly from buyers to sellers.
Blockchain Provides Reliable Scam Protection
Being a complicated process, property trading is extremely vulnerable to scam. That is why, traditionally, the parties to the transaction have to use the services of intermediaries, such as escrow companies. This approach, again, causes additional expenses. The blockchain technology helps avoid this step, as it provides transparency and reliable protection of every transaction.
Blockchain Increases the Liquidity of Real Estate Investments
Because of the time-consuming and tedious trading process, real estate investments are considered illiquid. It means you can't sell a property overnight without significant losses. This makes the real estate sector unsuitable for short-term investments. However, blockchain is going to change the situation. Firstly, it eliminates the need for time-consuming paperwork. Secondly, it allows making smart multi-signature contracts quickly and without third party involvement. High speed, transparency, and reliability increase real estate liquidity.
Crowdfunding in Real Estate Becomes Possible
Investments in the real estate sector have always been associated with high income. Blockchain opens new horizons in the sphere of property trading. Thus, it allows trading real estate in shares. This approach is known as crowdfunding. It increases the flexibility of the property investment and makes it available to people with medium income.
Real-Life Examples of Blockchain-Based Real Estate Companies
Though blockchain is not widely used in the real estate sector yet, some companies have already implemented it successfully. Let's review four real examples to see how you can use blockchain in real estate website development.
Harbor
This project launched in 2018 uses a system of tokens, which serve as property assets. One token is equal to the price of a small share of a real estate object. Accredited users can buy and sell tokens. Thus, instead of investing in one property item, they invest a little in several items. The tokens are built around the ERC20 token standard of Etherium, which means they (theoretically) can be resold.
Ubitquity
Ubitquity is a SaaS platform, which was created in 2015 in the US as the first e-platforms for real estate records storage and processing. It allows access to accurate and precise data about real estate objects to individuals, companies, and inspecting bodies. The advantage of Ubitquity are the following:
no human-factor mistakes;
full access to the history of real estate objects;
no problems associated with inheritance;
no scam and falsification.
BitRent
BitRent is an international digital platform where property developers can find potential investors and vice versa. The latter can invest small sums at the initial stage of construction works, after which a smart contract is created. Once a stage is completed, the investor gets tokens.
Smart Law
As the name implies, the Smart Law platform deals with legal aspects of real estate trading. It acts like an e-notary and helps minimize the amount of paperwork. Moreover, this platform offers a mobile app, which adds convenience and flexibility. Extensive use of smart contracts provides multiple benefits:
immediate money transfers;
no need in title companies;
multi-signature contracts and agreements.
Bottom Line
Being a promising cutting-edge technology, blockchain offers a lot of benefits to the participants of the real estate market. It makes business processes simple and transparent, reduces the costs, and increases property liquidity. If you want to make the most of your real estate business, now, it's high to implement innovative blockchain-based solutions.