Building The Future Of Sales Productivity In The Field: An Interview with Map My Customers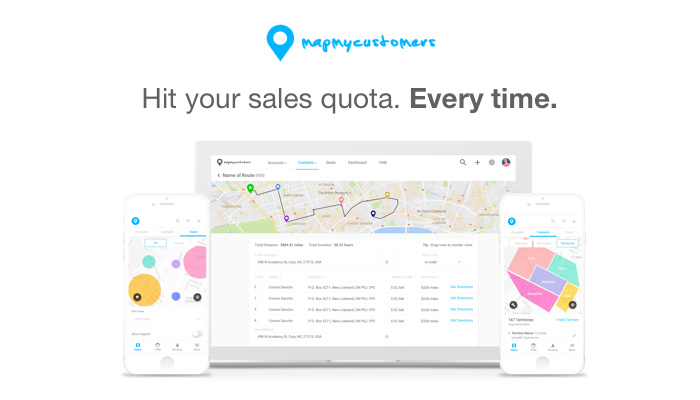 Q: What can you tell us about your company?
Map My Customers helps field sales teams (selling products directly to businesses) do more with their time by providing them with a more intuitive, geospatial workflow that allows them to be in the right place, with the right opportunities, at the right time.

Q: What types of services offer?
Map My Customers is a field sales automation platform that makes teams more efficient and productive, ultimately translating to higher revenue and customer retention rates for businesses. Drawing on multiple layers of data, the platform provides visual data to outside sales representatives so they can plan their time more strategically. Users enjoy an instant view of nearby accounts–at any time, in any place–and includes highly customizable features like route optimization, lead generation, and sales funnel visualization. For field sales managers, we help them understand the daily activities that drive success for reps, get higher quality data back into their CRM, and allow them to easily onboard new reps with territory management features.
Q: Are you targeting the consumer or business market? How does the business model work?
We are targeting organizations with large field sales teams. We sell 3 different plans with a Saas-based pricing model.
Q: What can you tell us about what you have in the pipeline?
We are currently doubling our headcount, particularly in engineering, customer success, and sales. Additionally, we will be released a new product at the end of this month (July 2019) that will better serve the needs of enterprise field sales teams everywhere. We plan to introduce several additional ERP and CRM integrations as well as intelligent workflow components into the platform by the end of 2020.
Q: What differentiates your company from the competition?
We sync much more naturally and with more big name-CRMs (Salesforce, Hubspot, Dynamics, Zoho – amongst others). We're built to scale to the needs of the enterprise.
Unlike competitors who can only create around 10,000 records for their customers, we have the ability to scale to millions of records for these enterprise teams. We also have real-time and bi-directionally sync with any number of tables and any custom fields/views. All relationships, associations, and custom activities sync to the corresponding table in MMC.
Q: Could you tell us more about your company achievements so far?
Over 100,000 users signed up to date

Big Enterprise teams such as Ferguson signed up, who currently have over 200 licenses with us

250% growth in revenue in 2018
Q: What are the key elements you want readers to take away from this interview?
For the last decade, the CRM market has been dominated by a few major players that have focused heavily on gathering data, but haven't improved on making that data actionable. Compiling all the possible customer touchpoints alone does not provide a full picture, and the goal behind Map My Customers is to help sales teams leverage that customer data to close deals
Additionally, CRMs are largely built for management, and not every end user in the sales process. We saw how that gap was preventing businesses from evolving their field sales ROI, and built a bespoke geospatial CRM for outside sales professionals. The suite has unique tools that field sales teams have found indispensable in both their day-to-day tasks, and longer-term goals.
Another interesting note is our founding story:
The app was originally built for Matt's (the founder's) father – a field sales rep in the flooring industry. His father has used the platform ever since and was a very large inspiration for the product early on in the company. When posted to the app store, it grew (mostly organically) to 100,000 users.
For more information, visit: https://mapmycustomers.me/
Social media pages:
Twitter: https://twitter.com/mapmycustomers
Facebook: https://www.facebook.com/mapmycustomers/
Linkedin: https://www.linkedin.com/company/map-my-customers/