Call for Optimum Usage of Water to drive Thailand Water Pumps Market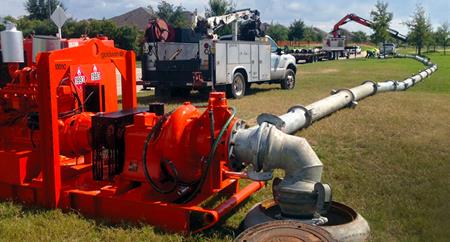 Water shortage is amongst the major factors catalysing Thailand water pumps market. Besides, there is an ever-increasing demand for efficient industrial and social infrastructure, inclusive of the one for water and energy, apart from replacing and retrofitting aging components.
South Asia is amongst the major manufacturing hubs as it makes way for benefits like abundant skilled labor, lower input cost, and easy access to technology and raw materials. China is the major importer of these water pumps from Thailand, followed by India.
Thailand itself is employing water pumps for micro-irrigation in the compact farms. As such, there would be an increasing deployment of the centrifugal water pumps having capacity below 30 HP. Persistence Market Research has walked through these facts with future prospects in its latest market study entitled "Thailand Water Pumps Market".
Request a Sample to Obtain Authentic Analysis and Comprehensive Market Insights at –
The sales of water pumps in Thailand reached 13,659 units in 2018, unveils a new research report on Thailand's water pump industry, by Persistence Market Research (PMR). According to the study, the Thailand water pump market is projected to grow at ~6% CAGR in the forecast period. Thailand has been witnessing a considerable increase in water supply over the recent past.
Wastewater, encompassing industrial and municipal segments together, accounted for a third of the global pump market in 2018, and is expected to lead the way over the forecast period as well. Thailand's water pump market is likely to equate the revenues worth ~US$ 23 Mn in 2019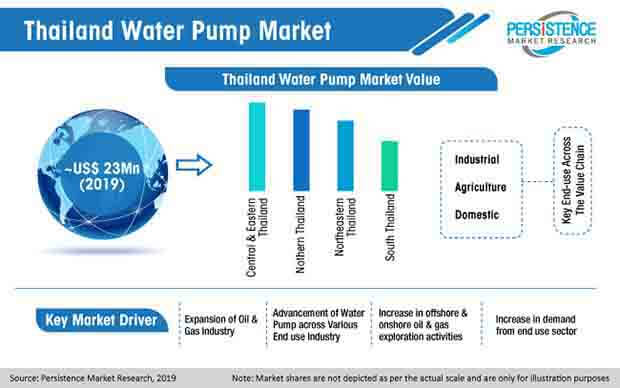 How is Thailand Water Pumps Market categorized?
Thailand water pumps market, by product, spans submersible and monobloc. By capacity, it's upto 3 HP, 3-5 HP, 5-10 HP, 10-15 HP, 15-20 HP, and 20-30 HP. By end-use, it's industrial (chemicals, power, oil & gas, pharmaceuticals, food & beverages, and likewise), agriculture, and domestic. Out of these, industrial segment holds the largest market share. Persistence Market Research has given a detailed analysis of these facets along with future perspectives in its latest market study entitled "Thailand Water Pumps Market".
More to Thailand Water Pumps Market
With rapid industrialization and urbanization witnessed by Thailand, the demand for water pumps has increased manifold. Also, stern regulations have been enforced for mandating recycling and reusing water, specifically in the industries. Persistence Market Research has, with the help of its analysts and consultants, entailed these facts with insights in its latest market study entitled "Thailand Water Pumps Market".
Competitive Landscape
Persistence Market Research has profiled the key players in Thailand water pumps market as Grundfos, Sulzer Ltd., KSB AG, Kirloskar Brothers Ltd., Flowserve Corporation, Ebara Corporation, Shanghai Kaiquan Pump Group Co. Ltd., Nanfang Pump Industry Co. Ltd., Hung Pump Group, and Venz Industrial Co., Ltd.
We Offer Tailor-made Solutions to fit Your Requirements, Request Customization –
Persistence Market Research has also gone ahead with mentioning about the key developments on this count. For instance – Sulzer Ltd., in September 2019, did come up with XJ 9000. It comes across as a submersible drainage pump claiming to be abreast with high-efficiency electric motor. KSB Pumps AG, in February 2018, contracted with the Government of India for supplying primary coolant pumps to NPCIL.
The Way Ahead
Thailand Water Pumps market is expected to go great guns in the next 10 years – Persistence Market Research