Call for Optimum Utilization and Recycling of Water to drive the Water Pump Market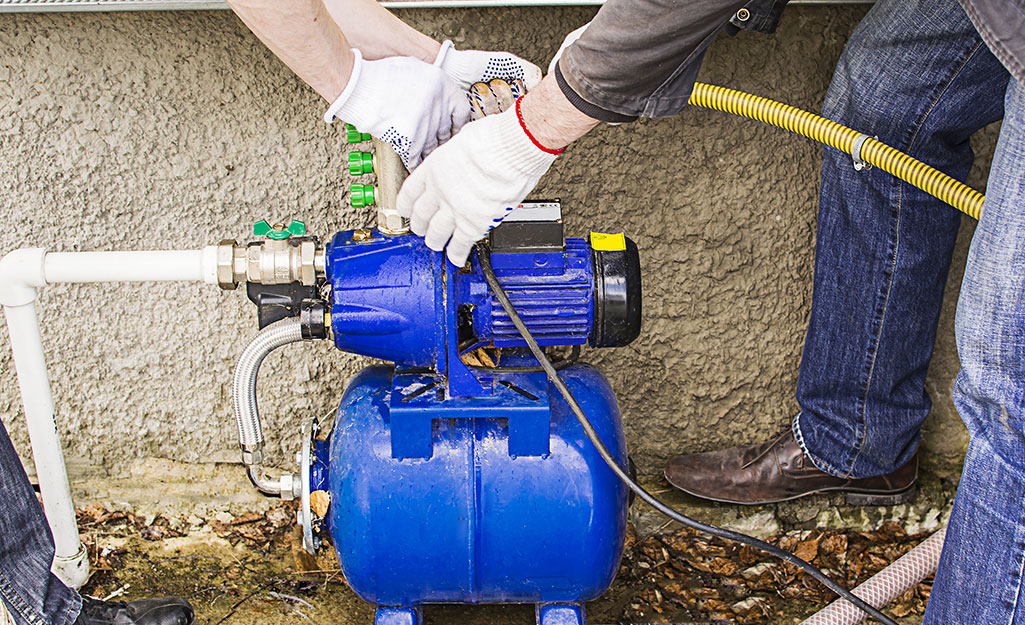 IoT is being widely adopted to catalyse industrial wastewater treatment with respect to precision in remote and in-depth monitoring of the operations from diverse locations. This, in turn, curtails the cost of operations and labour. The developing economies are into fast improvement of infrastructure. This factor is likely to take the water pump market by storm in the near future, as stated by Persistence Market Research.
Water Pump Market Segregation
The global water pump market, by operating capacity, spans high, medium, and low. By type of product, it's centrifugal pumps (single stage, multi stage, axial & mixed flow, submersible, and circulators) and positive displacement (rotary and reciprocating).
Request a Sample to Obtain Authentic Analysis and Comprehensive Market Insights at –
By application, it's centrifugal pumps (domestic, agriculture & irrigation, mining, water & wastewater, oil & gas, and other industrial) and positive displacement (oil & gas, chemicals, water & wastewater, pulp & paper, power, and other industrial). Persistence Market Research has etched these facts with future perspectives in its latest market study entitled "Water Pump Market".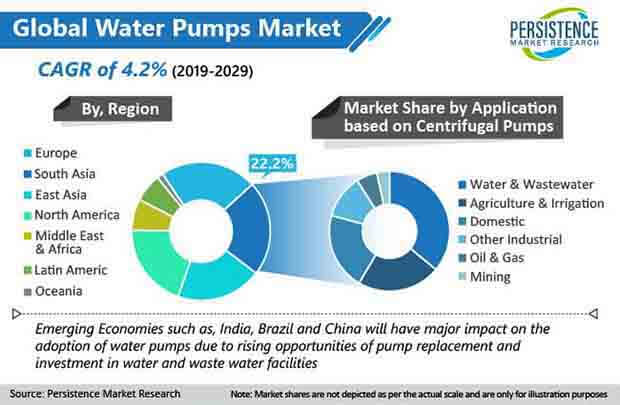 Region-wise Insights
North America holds the largest market share, followed by Europe. The Asia-Pacific is expected to grow at an exponential rate in the water pump market due to growing awareness about scarcity of drinking water. Persistence Market Research has, through its analysts and consultants, entailed these findings with insights in its latest market study entitled "Water Pump Market".
Competitive Landscape
Persistence Market Research has profiled the key players in water pump market as KSB SE & Co. KGaA, Flowserve Corporation, Sulzer AG, Ebara Corporation, GRUNDFOS, The Weir Group PLC, Wilo SE, Xylem Inc., Kirloskar Brothers Ltd., Ruhrpumpen Group, Gardner Denver, Inc., Megator Corporation, Viking Pump, Inc., Gorman-Rupp Pumps, Tsurumi Manufacturing Co. Ltd., Mitsubishi Heavy Industries, Ltd., LEWA GmbH, PSG (Dover Corporation), and Atlas Copco Group. These players are also into mergers, acquisitions, joint ventures, and partnerships to sustain themselves amidst fierce competition.
Contact Sales for Further Assistance in Purchasing This Report –
For instance – Flowserve Corporation, in the year 2019, did ink agreements for providing main pumps for 2 big SWRO (seawater reverse osmosis) desalination plants based out of the UAE – Rabigh-3 and Taweelah. Xylem, Inc., in November 2018, did sign a MoU (Memorandum of Understanding) with Ethiopia's MoWIE (Ministry of Water, Irrigation and Energy) for helping in advancing the nation's water security. GRUNDFOS, in the year 2018, did showcase the intelligent boosting solutions at 24th IPC (Indian Plumbing Conference).
The Road Ahead
The global water pump market is bound to grow on a persistent note in the next 10 years – Persistence Market Research