Carlos Beirao da Veiga Touts the Power of Short-Form Videos on TikTok and Other Platforms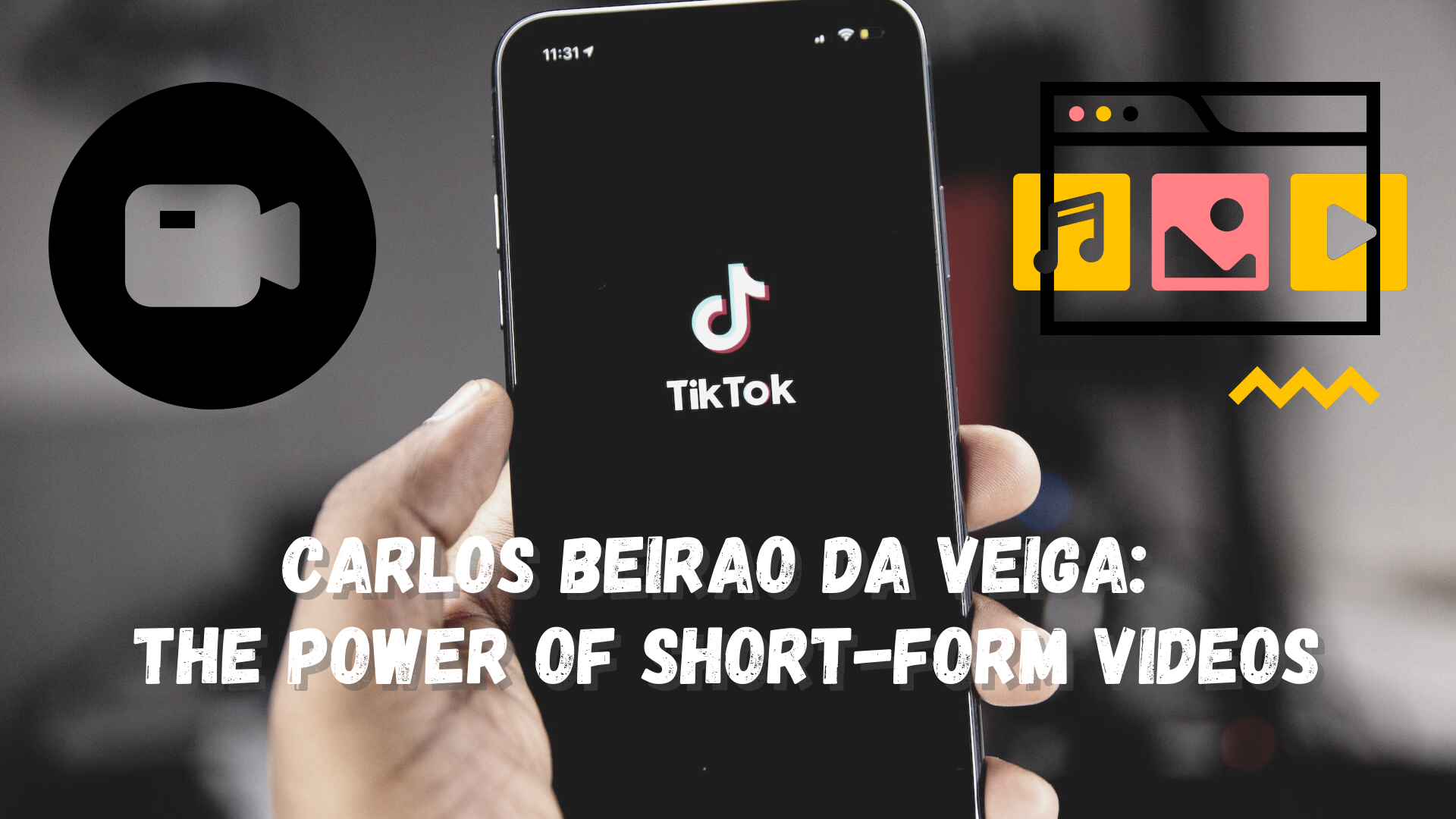 As short-form video platforms TikTok, Instagram Reels and YouTube Shorts blaze forward in popularity, the data reveals such content will see the most growth in 2023. Businesses overwhelmingly use TikTok, which is angling to prove it's not a Trojan horse for the Chinese government, thus improving its reputation.
According to HubSpot Blog's 2022 Marketing Industry Trends Survey, more than 51% of marketers employ short-form videos. Based on data from 1,200+ global B2B and B2C marketers, the survey unveils a critical reason why short-form video is hot: It possesses the highest ROI of any social media marketing strategy. 
Based on the data, the short-form format will continue to dominate social media platforms in 2023. Marketing experts like Carlos Beirao da Veiga, founder of Da Veiga Consulting, strongly advise their clients to incorporate video content into their marketing toolkits. 
Beirao da Veiga, a native of Portugal, operates an international marketing firm, so he continually examines data to give his clients the most up-to-date information to guide their marketing strategies. 
"Online video attracts marketers, business leaders, and consumers because it gives them maximum information in a minor time frame," Beirao da Veiga says. "For that reason, digital outreach via videos is a marketing must-have for 2023."
Short-Form Videos are Among the Technologies of the Future, Says Carlos Beirao da Veiga
Short-form videos give marketers an unprecedented ability to lead businesses to success. According to HubSpot Blog's 2022 Marketing Industry Trends Survey, the following platforms, in order, are the best ones to use: TikTok, Instagram Reels, YouTube Shorts, Triller, Hippo Video, Magisto, Lately.ai, and Wistia. 
The HubSpot report reveals that marketers consider any video under 60 seconds to be short form; the optimal length is between 31 and 60 seconds. YouTube is the lone exception, as viewers will watch 10-minute videos on the platform due to its comprehensive nature. Still, HubSpot's report reveals that 96% of marketers think the optimal video length is less than 10 minutes.
According to Forbes, an industry leader in financial news, customers seek a sense of belonging by interacting with people who share their passions regardless of geographical location. This fact is an underlying reason the internet creates untold numbers of niches. Now companies know that engaging video content fosters viewer participation among large and small groups. 
Companies engaging in short-form video production find they are arguably easier to produce. This reason enthuses marketing experts like Carlos Beirao da Veiga, who recommend this social media form to clients. Making videos easily and quickly allows marketers to test new ideas inexpensively and at record speed. 
Along with the small investment required for production, the short-form video gives companies the agility to react to trends that harmonize with their goals. Interestingly, video production that isn't perfectionistic still works for business purposes because they feel organic and authentic. Like modern magic, the abbreviated video style can still explain products, endorse products, and publicize customer testimonials without sleek production values. 
Carlos Beirao da Veiga Recommends
Short-Form Videos Because They Deliver Curated Content to Viewers
As Carlos Beirao da Veiga and others following marketing trends have discovered, short-form videos generate conversions regardless of the degree of polish. For example, on average, TikTok entertained viewers for 45.8 minutes per day in 2022; these viewers don't seek perfection. 
The low bar for entry allows companies to reach broad audiences. It's a fabulous alternative for companies trying to avoid more expensive forms of advertising. The results are astounding. Marketers worldwide told HubSpot that short-form videos yield their highest ROI. Other videos are also compelling – 16 percent of respondents said long-form videos comprise their highest ROI.
Beyond affordability, short-form videos can access complex algorithms and machine learning through artificial intelligence. This ability gives every viewer a curated feed of personalized content. 
According to the comprehensive commerce platform Shopify, audiences expect brands to provide relatable content that elicits their engagement. As mass personalization continues to grow with the help of AI, 73% of shoppers think brands should understand their needs and expectations. 
Short-form videos for marketers who advise global businesses, like Beirao da Veiga, deliver a bonus: universal accessibility. According to Forbes, many content creators can produce videos that don't require individuals to speak a particular language. So, marketers can invest in short-form videos with easily understood visual content. This boon of wide accessibility means companies can reach viewers across demographics and geographies. 
In 2023, marketers should aim to create short-form videos that entertain and distract them — and they don't necessarily want to search for them. Due to these attitudes, short-form videos can be used to address audiences' needs and expectations. Savvy business leaders will personalize their video content to reach different demographics and diverse audiences. This exciting reality delivers a win-win for companies everywhere.