Crypto Bitlord Raises $4 Million in Under 24 Hours for Mystery Project
Crypto Bitlord Makes Massive Waves with $4 Million Presale Triumph

In an unprecedented feat that has taken the crypto world by storm, the legendary crypto influencer Crypto Bitlord has achieved a staggering $4 million of sales in less than 24 hours for a mystery project covered in secrecy. This exceptional achievement has sent shockwaves through the cryptocurrency community, highlighting the power of curiosity and trust in one of the most volatile and speculative markets.
Crypto Bitlord, a prominent figure in the crypto world, has a track record of making significant contributions to the crypto community. With a history that includes being an early ETH ICO contributor, an early bitcoin adopter in 2012, and a supporter of groundbreaking projects like ADA and Dot/KUSAMA from their genesis, Bitlord has consistently identified major trends in their infancy. Notably, he has been an ardent supporter of billion-dollar meme coins like Shib, Floki, and the recent sensation, PEPE. He has consistently identified major trends in their infancy. He's also renowned for being one of the earliest Ripple $XRP supporters, showcasing his keen eye for emerging opportunities. 
Whether you love or hate him, one undeniable fact is his knack for identifying trends early and capitalizing on them.
Bitlord's venture into the creator space has ignited great excitement among his supporters, who eagerly anticipate his next move. When asked for comment, Bitlord cryptically replied, "Read the TOS if there's any confusion."
 In a world increasingly governed by tightening regulations, this enigmatic response appears to be a calculated move to maintain maximum ambiguity.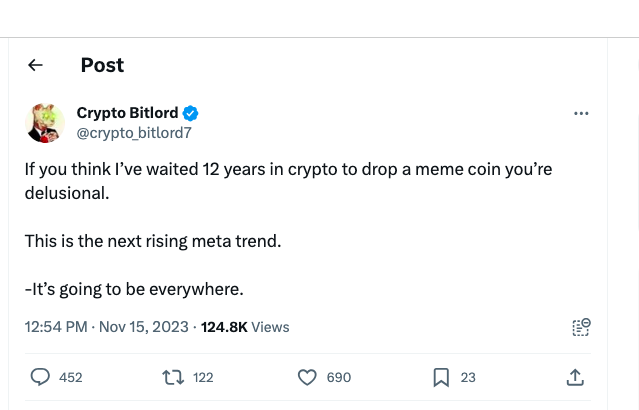 In a daring move, Bitlord decided to keep the project's details under wraps, placing his trust in the curiosity and loyalty of his followers. In a series of cryptic tweets, he introduced a tiered presale system, leaving his audience in suspense:
"This sale is a tiered system of 3 stages."
However, it's important to note that this endeavor comes with a disclaimer:
"These tokens/coins are 'as is,' without warranties. No promises on future value or performance. Purchase based on blockchain functionality, at buyer's risk."
The distribution process was equally transparent, and Bitlord clarified that this was not investment advice.
"There are no refunds and no ability to 'reverse' a transaction once Ethereum is sent. You understand sending under 0.2 ETH at any time will not be returned."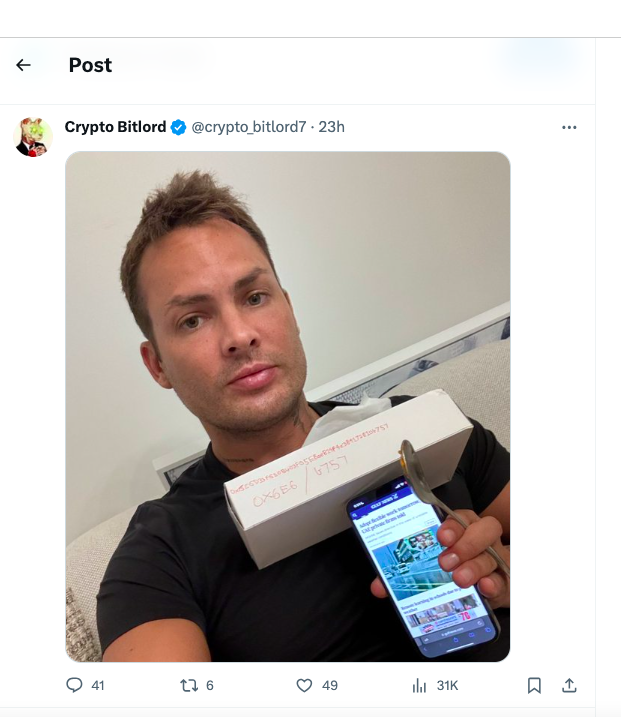 Bitlord's ability to raise $4 million in less than 24 hours for a project cloaked in mystery is a testament to his influence and the trust he has earned within the crypto community. This extraordinary achievement is a clear indicator of the power of curiosity and the unwavering support of his followers.
Looking forward, Bitlord remains fully committed to serving the interests of his community. As he forges ahead into this compelling future, fellow enthusiasts and the entire crypto community eagerly look forward to the advancements and innovations that lie ahead.  
This sale offers a chance for individuals who believe in the potential of cryptocurrency and share Crypto Bitlord's vision.