Degrii's AI-Powered Smart Thermostat Enters the U.S. Market with Tools to Reduce Energy Consumption and Expenses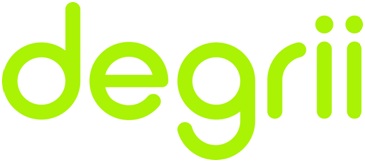 MENLO PARK, CA–Degrii, an industry leader in smart home technologies with a dedicated focus on global sustainability and smart electronics, announces the U.S. release of its game changing Degrii Smart Thermostat. Founded by scientists and engineers, Degrii pushes its data-driven technology model forward to ensure that the highest levels of energy efficiency will translate into actual utility cost reductions of up to 30% for its consumer base.
Predict Energy Consumption
"We designed the Degrii Smart Thermostat to truly offer consumers comfort in every corner of their world while also allowing them to understand their energy patterns and save money," says Fei Zhao, Founder and CEO of Degrii. 
The AI-powered Smart Thermostat ($89.98) with its sleek design form offers consumers maximum levels of control over home heating and cooling preferences. During Degrii's easy 15-minute AI-assisted app tutorial, the thermostat begins quickly learning your ideal temperature patterns and HVAC zone preferences. Examining the collected data points will allow the thermostat to begin offering the best predictive efficiency suggestions to stop unneeded energy consumption and actually save homeowners money on their heating and cooling bills.
Focus Energy Consumption
The Remote Thermostat ($39.99 each) offers passive infrared (PIR) that identifies unoccupied areas and regulates temperature settings accordingly. The prioritization of temperature control to occupied zones stops energy misuse to unoccupied zones. However, customized tips can be overridden by customer preference to keep all rooms at a desired temperature regardless of occupancy or cost.
To learn more, visit www.degrii.com or find them on Amazon.com
"Together, these features ensure users can enjoy the highest level of energy efficiency, cost savings and environmental sustainability possible, added Zhao.  
Automate Energy Consumption
The most beneficial aspects of the Smart Thermostat's computer learning functionalities are the automated features specifically designed to save users money. Efficiency algorithms are independent of direct user engagement after initial data samples have been analyzed by the AI algorithms.
Savings Goal: Degrii Smart Thermostat also offers a Savings Goal feature that automatically recommends schedule settings based on user location and preferences, further optimizing energy savings. 
Customized Tips: This advanced thermostat function uses environmental and HVAC operations data to deliver customized energy-saving tips that assist users in minimizing energy waste to reduce utility costs. 
Geofencing: Degrii Smart Thermostat leverages advanced geofencing technology to detect when occupants are away from home, automatically adjusting temperature settings to minimize energy consumption during vacancy periods. This helps reduce energy waste by ensuring the HVAC system isn't heating or cooling an empty house, which in turn decreases power and cost.
Save on Energy Consumption
"Users can confidently and conveniently contribute to energy conservation efforts while benefiting from significant cost savings over time," concludes Zhao
Degrii's U.S. market release of its groundbreaking AI-powered Smart Thermostat and Remote Thermostat units introduces cutting-edge technology for residential HVAC systems. Created in collaboration with engineers and scientists, machine learning finds the most efficient resolutions to power and cost reductions for the home. When administered effectively by both human and AI, utility cost reductions can be maintained at and around 30%. This substantial savings is both financially and ethically responsible for the planet.
About Degrii
Founded by scientists and engineers, Degrii provides data-driven products for global sustainability. More than 300,000 users worldwide use the intelligent technology designed by award-winning designers and strong manufacturing. Degrii constantly innovates to share and promote an integrated low-carbon future. The new Smart Thermostat and the Remote Thermostat are just two of several smart home products in development. The company is actively working on new products utilizing intelligent robots and data-driven approaches.
Additional information about the Degrii Smart Thermostat and future developments can be found on the company website at www.degrii.com