Dubai International Blockchain Summit (DIBS)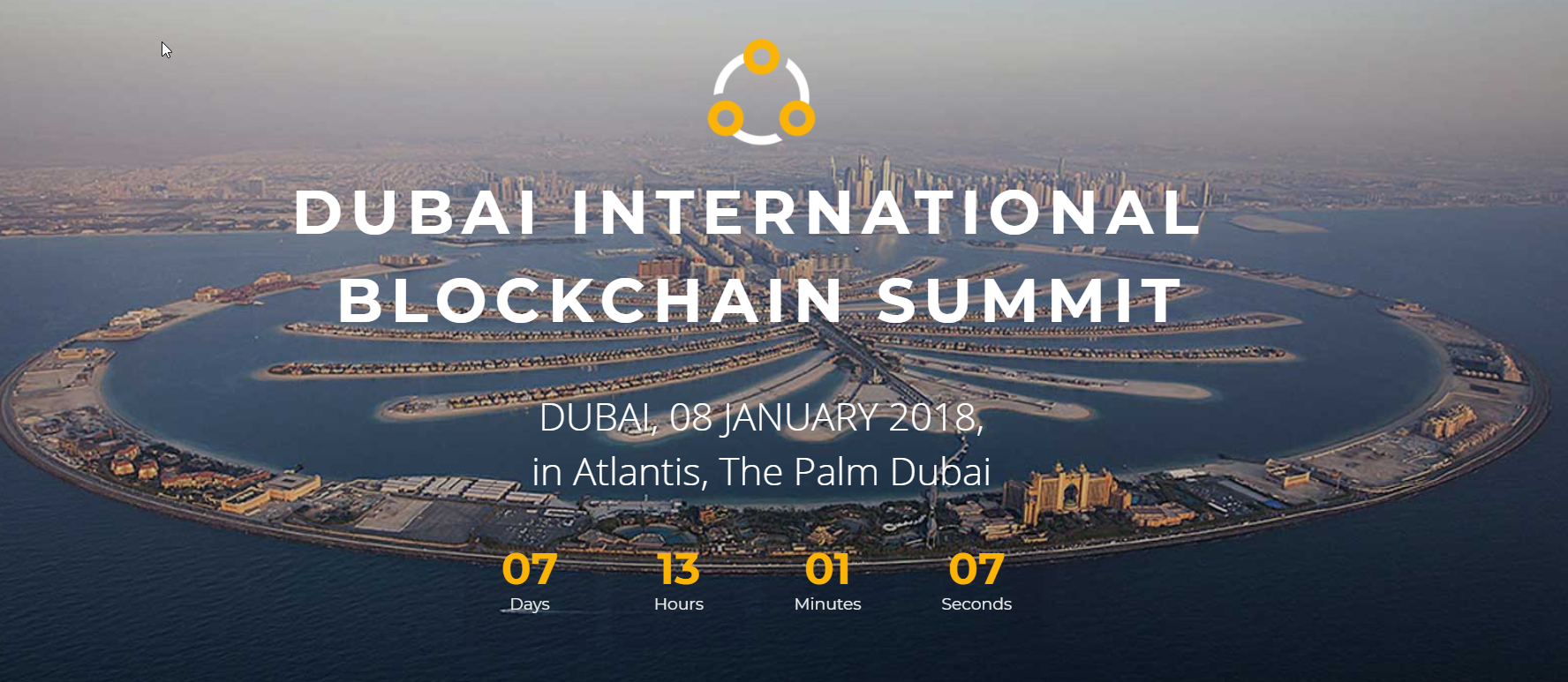 THE EVENT:
The Dubai International Blockchain Summit (DIBS) 2018 is the largest gathering of its kind in the region which brings
together blockchain technology experts from the global scene to discuss/showcase New Technologies and Highlight a
series of Ongoing and Upcoming projects in the blockchain realm.
This high caliber event boasts of world renowned speakers from the UAE, USA, GERMANY, UK, RUSSIA, ESTONIA,
SAUDI ARABIA, GIBRALTER, HONG KONG, GEORGIA to mention a few.
The DIBS 2018 will also host hundreds of blockchain enthusiasts and has wowed in several Journalists, Top Bloggers and
Media coverage set in place to trigger full coverage of the event along with a live stream feed to ensure all individuals with
interest in blockchain globally can also experience the event on a variety of media platforms as an alternative to
participating in person.
EVENT AGENDA AT GLANCE:
8 th January 2018 Event Day Procedures
08:00 – 08:30 Morning Reception and Registration
08:30 – 13:00 Morning Presentation Sessions
13:00 – 14:00 LUNCH
14:00 – 19:00 Afternoon Presentations Sessions
19:00 Event Concludes
21:00 Post Event Gala Dinner
THE BLOCKCHAIN TECHNOLOGY:
Blockchain is a digitized / decentralized / public ledger that has evolved from simply keeping records of cryptocurrency
transactions to a preferred model used in various commercial applications today. Its key purpose is for verifying
transactions which is done by entire users in the blockchain community as opposed to a single centralized authority
practiced prior to the creation of this technology.
WHY BLOCKCHAIN IN DUBAI?
Following the launch of the Blockchain Strategy2020 by His Highness Sheikh Hamdan, Dubai proved its ambitions
towards adopting / implementing Blockchain Technology on a wide scale and the DIBS 2018 stands to reaffirm the
ambitious move of the city is indeed in full momentum.