EToken: A trusted Crypto Bank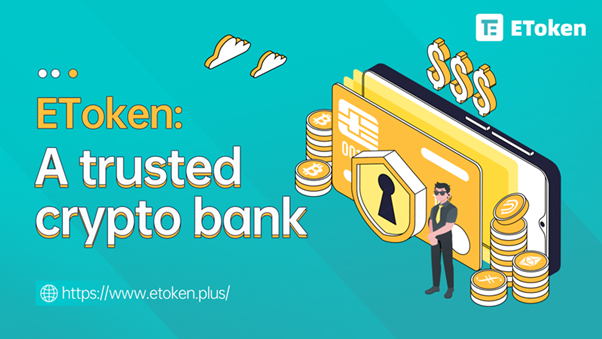 With the global crypto market value breaking new highs, more and more people are eager to capture new wealth opportunities in this emerging financial sector, especially in recent years, trading, wallet, DEFI, NFT and other tracks have burst out, the release of new concepts in the market and the landing of multiple scenarios of financial applications have attracted a number of individuals and institutional investors on board, bringing strong liquidity to the crypto market and generating waves of wealth opportunities.
What if there is a product, allowing users to realize crypto swap, trading, hedging, financial management, mining, and other functions within one interface, even launching more DAPP ecological landing scenarios in the future, to help users to plan orderly ways to maintain and increase the value of digital assets? Wouldn't it be really intriguing?
The birth of EToken is based on the outbreak of crypto ecological DAPPs, a variety of projects and applications emerge in an endless stream, crypto users shuttling between various pc and mobile software, not only spend a lot of time to register and operate, but also end up with gradually fragmentation and decentralization of asset allocation, which is not conducive to asset management and appreciation, and even lead to user privacy security risks.
EToken is like an DAPP integration of the cryptocurrency industry, bringing the hit sectors in crypto market all together within the ET wallet, trading, Defi, staking, mining, financing, etc. Users only need one account to manage multi-chain digital assets, and play with the whole ecological economy of DAPP in an APP, the transaction operation is more convenient and smoother, unlocking multiple asset appreciation methods with one click.
EToken – Integrated digital asset financial management service platform
EToken, referred to as ET wallet, provides users with integrated digital asset financial management services.
EToken TECHNOGYPTE.LTD is headquartered in Singapore, dedicated to the integration of crypto-asset financial management, decentralized wallet services, public chain technology fields; Through continuous technological innovation, we will build a convenient and safe digital asset integrated service platform to provide asset custody, appreciation, management and other services; In cooperation with overseas multinational institutions and funds, EToken has established direct sales teams in Singapore, the United States, Russia, Thailand, and other places.
EToken 1.0 version is about to launch, here's a quick tour to its functions list!
Trading Functions:
 

Swap
Supports small volume swap and brokerage. No slippage, supports more trading pairs.There is no transaction fee in the swap section, which ensures the stability of the transaction and provides a smooth operation experience.
OTC Transaction
At ETOKEN, you can trade digital currencies quickly and easily.you can easily and quickly trade bitcoin and other digital currencies, buyers and sellers do not have to pay transaction fees.
ETOKEN gives sellers the freedom to choose the payment method.
At ETOKEN, OTC supports many payment methods, the specific method is subject to the merchant payment mode. ETOKEN allows users to set their own prices, choosing to buy and sell digital currencies at their preferred prices.
Secure trading of digital currencies such as bitcoin,T + 1 withdrawal mechanism, strict management of businesses, big data of risk control screening and investigation of suspicious transactions, to ensure the safety of platform funds, so that users can safely trade.
Currency Exchange
The platform supports users to exchange currencies within the wallet, and the buying and selling rate is as low as 0.3%.
Stake and Loan Functions
The EToken platform allows users to borrow digital assets and enjoy the experience of rapid arrival; Users can obtain stablecoin USDT by staking BTC\ETH\FIL.
Operation Process: The borrower can initial the load application on the platform and wait for the platform to transfer the pledged assets and issue the borrowed currency. After the borrower repays the interest and currency borrowed, the platform would return the pledged assets.
Financial management functions  
EToken platform will list BTC\ ETH\ FIL\ USDT\ DCC financial products, users can choose the product cycle of 30, 90, 180 days, T days after the purchase of the periodic products, it begins to accrue the interest on the T+1 day, The interest will be calculated from day T+1 and paid on day T+2, the income is issued on a daily basis, users can enjoy the stable value-added income of assets with low risk.
In the future, EToken will become fully open-source, decentralized, and completely achieve community autonomy; As a wallet application of the DCFS public chain, it will achieve complete multi-chain asset interoperability in the 3.0 phase, to meet user's multiple assets management needs with ease;
EToken aims to become the world's most well-loved crypto asset management platform, providing users with low rates, high stability, a full range of asset appreciation services. In EToken, you can experience a wealth of financial services and diversified innovative products, we are dedicated to protecting your crypto assets.
For more platform information or to download the APP, please visit the official site: www.etoken.plus/
Twitter: https://twitter.com/ETokenOfficial