Exploring Eisbach Watches – Precision Time Instruments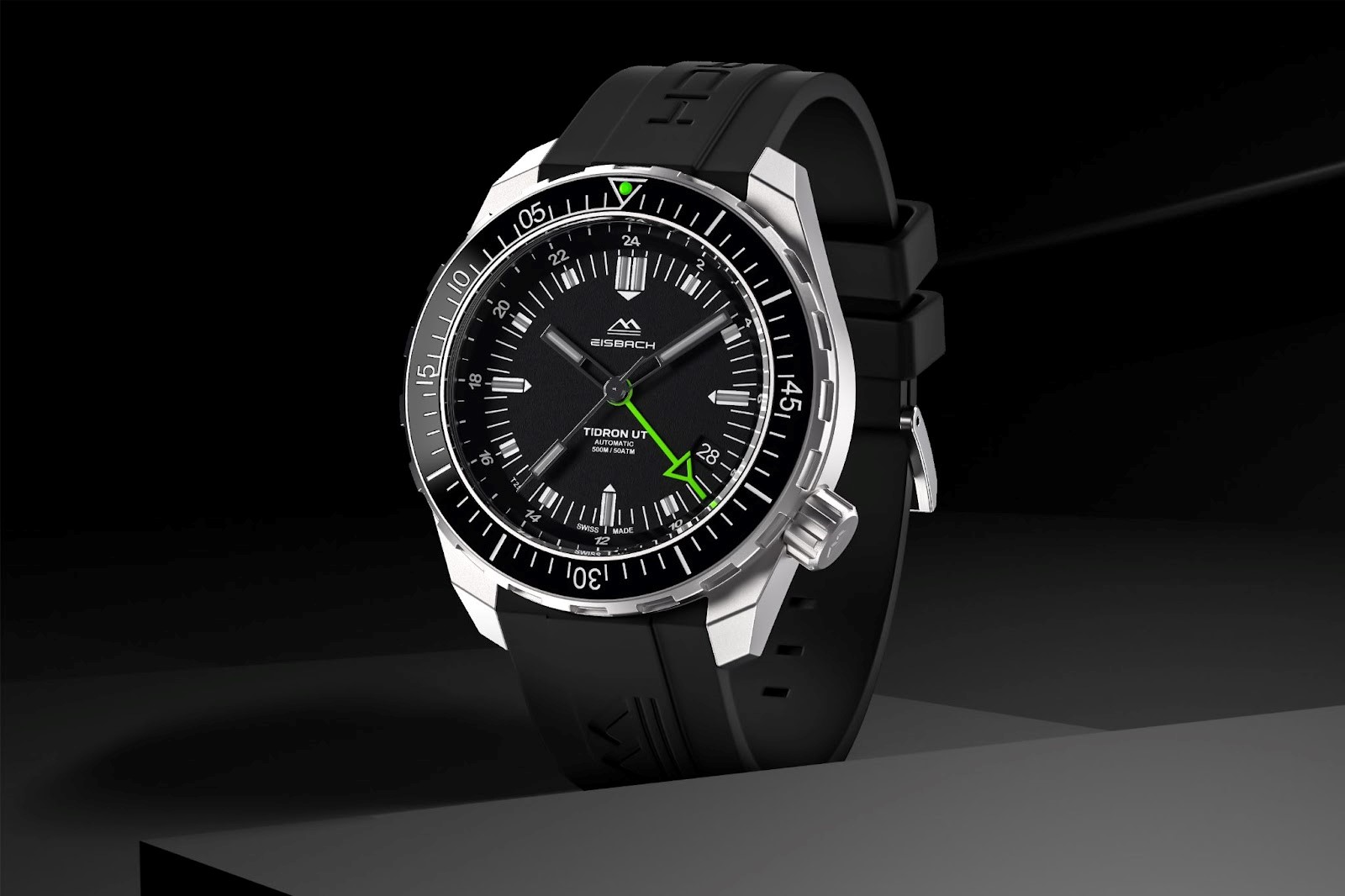 We made serious automatic tool watches and professional divers. Designed with functionality and sophistication in mind. We made a watch that tells a story. And we made it for you!
The art of creating successful automatic tool watches is in the details. And through this art, a complex series of technical feats must be accomplished to produce a precision tool watch. A watch that is unsurpassed in its integrity and style, with a Swiss automatic movement and the latest technological innovations in dive watch construction.
Yes, the Eisbach Tidron is a tool watch. But unlike many other precision time instruments, it houses the absolute best in German tool watch design while honoring dedicated Swiss watchmaking.
It is the right place for a top-quality diving watch and /or GMT watch.
The Spirit
The world of automatic watches is constantly expanding, and innovations and tastes are evolving at an incredible pace However it can be safely said that the quality of craftsmanship has always remained a constant factor based on which a customer picks up a watch. 
Eisbach watches are inspired by the confluence of natural forces along the man-made river of the same name in Munich. Immediately behind a bridge near the Haus der Kunst art museum, this river forms a standing wave in which river surfers demonstrate their endurance and skill at any time of year. 
The same spirit of searching for the perfect wave is in every detail of our tool watches. Our best German engineering strives to meet the needs of these style-conscious customers and the practicality of divers, surfers, adventurers, professionals, and modern digital nomads who need high-quality precision time instruments no matter where they travel next.
Features
Our automatic watches are designed by passionate engineers who want to set new standards in style, application, technology, and affordability. We offer you a piece of the best German and Swiss watch technology.
Eisbach watches are also special because we use permanent Trigalight H3 illumination for most watches. This means that you can read the time in all conditions and that your watch will look attractive even in low-light conditions.
Most importantly, when you buy an Eisbach watch, you get undisputed quality at a very affordable price. There are certainly watches on the world market that are as good as Eisbach, but not at this price.
With the purchase of an Eisbach watch, you will get the following:
– German engineered tool watch – Swiss made
– A tool watch that appeals to all aspects of your adventurous soul;
– Swiss-made automatic movement;
– Trigalight H3 and Swiss Super-LumiNova BGW9 illumination;
– 300 or 500 m water resistant;
– Sapphire crystal with anti-reflective coating;
– Unidirectional (diving watch) or bidirectional (GMT watch) bezel with 120 clicks;
– Bead blasted, DLC Coated 316L Stainless Case 
– Stainless steel or ceramic bezel insert;
– Stainless steel bracelet or high-quality FKM rubber strap;
– Screw-down crown at 4 o' clock 
– Caseback with Eisbach Wave design or exhibition case back for specially designed movements.
– Shockproof protection;
– State-of-the-art, high-quality materials;
– And much more.
With each Eisbach watch, the customer gets a German automatic tool watch and a diver's companion for life. Eisbach watches are truly made with attention to detail.
Collection
Our collection offers you two main lines of watches, Tidron E1 (Diver) and Tidron UT 360GM-T (GMT watch), highlighted by the limited edition models: the Tidron E1pro – Ice Fjord Diver, Tidron E1pro Green Land Ice Diver, and the Tidron UT 360GM-Tpro White Silver case or Tidron UT 360pro GM-T carbon. 
Each of these lines offers you a wide choice of models with a metal bracelet or rubber strap, with a bead blasted or DLC finish, etc., so you will easily find a watch that suits you exactly.
TIDRON E1 Series – watches that are ready for action and adventure. 
This series is enriched by models such as: 
– TIDRON E1 WAI – Available in three different dial colors (blue, green, and black), all with blue Triga Light illumination or SuperLuminova BGW9 for best visibility underwater.
– TIDRON E1 BLACK SEA DIVER – Comes with a black scratch-resistant DLC coating and anti-reflective sapphire crystal. Available in three different dial colors (blue, green, and black), all with permanent blue TRIGALIGHT H3 illumination or/and SuperLuminova BGW9 for best visibility underwater…
– TIDRON E1 PRO – Limited edition of Eisbach Watches representing two models: TIDRON E1pro ICE FJORD DIVER and TIDRON E1pro GREENLAND ICE DIVER. The best German tool watch design can offer. It will be strictly limited to 250 pieces, all of which will have an engraved number.
TIDRON UT 360GM-T Series – versatile GMT watches designed for exploring the world around you.
This series is recognizable by two models:
– TIDRON UT 360GM-T – Available in three variations – with red, orange, or green GMT hand. A watch from this series that will take your breath away is a limited edition TIDRON UT GM-Tpro WHITE with an open casebook showing our Eisbach rotor, Movement with blue screws.
– TIDRON UT 360GM-T Carbon – The stainless steel case and bracelet with black DLC carbon coating make this watch unique in your collection. This model also has its representative among the limited editions: TIDRON UT GM-Tpro White Carbon.
No matter the model a customer chooses, they will always get a reliable partner that they can trust for all their adventures.
Bracelets and straps
Our watches are equipped with stainless steel bracelets and rubber straps of the highest quality and German design.
Right from the design development to the production, every link and pin of our steel bracelets gets the same care and precision. Customers can choose bracelets in bead-blasted or DLC-coated finish, available in silver, gunmetal, carbon, and black.
The bead-blasted finish with DLC (diamond-like carbon) coating gives Eisbach watches long life and resistance against wear.
To ensure maximum comfort, the bracelets that start 20 mm wide, get tapered to 18 mm. The folding clasp has the engraved Eisbach logo to enhance the look.
Integrated into the watch case, our FKM rubber strap offers superior resistance to environmental elements found even in the extremes of water. Our rubber straps are made of premium FKM rubber! This most expensive rubber material available on the market offers the highest flexibility and durability against damage or tearing.
Like the metal bracelets, the rubber straps are 20mm wide and slightly tapered to 18mm. The slight taper ensures maximum comfort, and the stainless steel buckle proudly bears an engraved Eisbach logo.
Your German Engineered Eisbach Tool Watch is ready for action and adventure.
Author: Eisbach Watches