From Dreams to Reality: The Impact of Decentralized Crowdfunding on Crypto Projects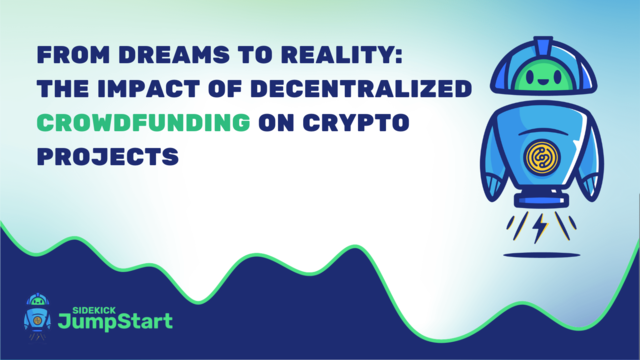 Crowdfunding has been a popular way for individuals and businesses to raise funds for their projects. However, traditional crowdfunding platforms have limitations, such as strict regulations, high fees, and limited access to funding. 
In recent years, decentralized crowdfunding platforms have emerged as a promising alternative for funding crypto projects. These platforms use blockchain technology to enable crowdfunding in a decentralized and trustless manner. 
In this article, we will discuss the benefits of decentralized crowdfunding and highlight JumpStart, a decentralized crowdfunding platform that is making waves in the crypto community.
Benefits of Decentralized Crowdfunding
Decentralized crowdfunding offers several benefits over traditional crowdfunding platforms. Firstly, it allows projects to raise funds from a global audience without the need for intermediaries or middlemen. This means no restrictions exist on who can participate in the crowdfunding campaign. 
Secondly, decentralized crowdfunding platforms are often cheaper than traditional platforms. Since no intermediaries are involved, fees are significantly lower, and projects can retain a higher percentage of the funds raised. 
Lastly, decentralized crowdfunding platforms offer transparency and security. Transactions on the blockchain are immutable and transparent, which ensures that the funds raised are used as intended.
JumpStart: A Decentralized Crowdfunding Platform With a Difference
JumpStart is a unique NFT crowdfunding platform that offers a decentralized way to raise funds for your creative ideas or business projects. It enables entrepreneurs, creatives, and community builders to get their ideas funded with stable cryptocurrencies while offering NFTs with perks and rewards to contributors. 
JumpStart offers a new way for creators to stay in touch with their loyal supporters and community members by integrating their NFTs into future projects. JumpStart provides a self-service platform that allows users to create and publish crowdfunding campaigns easily. The platform offers a simple and intuitive user interface that makes it easy for anyone to launch a crowdfunding campaign in minutes.
Several projects have been successfully funded through JumpStart
JumpStart has already funded several successful projects, demonstrating the potential of decentralized crowdfunding platforms.
Signed LLC – a Web3 marketplace for musicians, received a total of 50,250 USDC in funding from 39 backers through JumpStart. The project aims to empower musicians by providing them with a platform to build, engage with fans and monetize.
Shill Team 6 – a creator and Bitcoin trading community received 13,600 BUSD from 22 backers and in the process created a private community where they earn alongside their fans. This is a useful example of how even creators and influencers can create and fund their private communities via JumpStart.
Sidekick Heroes – a campaign by the official SideKick project easily raised 46,700 BUSD from 39 backers through JumpStart. The project offered 3 contribution tiers (50, 1000, 5000 $BUSD) which are special NFTs that can be traded on third-party marketplaces.
These projects demonstrate the potential of JumpStart to fund innovative and creative ideas. By offering a decentralized platform and enabling contributors to receive NFTs with creative perks, JumpStart offers a new way for entrepreneurs and creatives to fund their dreams.
Wrapping Up
Decentralized crowdfunding platforms offer a promising alternative to traditional crowdfunding platforms. They provide a way for projects to raise funds from an engaged audience without the need for intermediaries or middlemen. 
JumpStart is a decentralized crowdfunding platform that is making waves in the crypto community, having already helped several successful projects fund and build a loyal following. With the growth of the crypto industry, we can expect decentralized crowdfunding platforms like JumpStart to become more popular, enabling more individuals and organizations to turn their dreams into reality.