GAME JOLT, INVEST QATAR, QUEST ESPORTS AND AWS ANNOUNCE WORLD CUP GAME JAM PRIZE OF $20,000 USD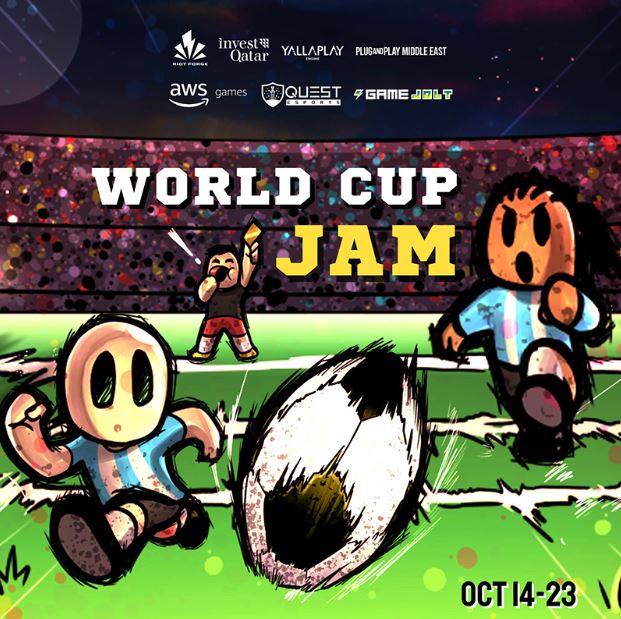 WINNING GAMES WILL GET CASH, MENTORSHIP AND THE OPPORTUNITY TO PITCH TO PUBLISHERS
SEATTLE—September 30, 2022—Game Jolt, Invest Qatar, Quest Esports and Amazon Web Services (AWS) for Games announce the World Cup Game Jam where developers from all over the world will have until October 24th to create and submit games themed around the World Cup.
Invest Qatar, the national brand that showcases Qatar as an exceptional investment destination, has sponsored the cash prize pool of $20,000 USD for the top 3 winning games, highlighting the talented creators in EMEA.
The development portion of the game jam starts at midnight on October 14th and participants will have until the 24th to create and submit their games. Winners will be mentored by the likes of Numbase, Plug and Play, Invest Qatar, Yalla Play and Riot Forge before pitching their games to a panel of publishers for the possibility of further funding. The first place winner will receive $20,000, followed by $5,000 for the second place and $3,000 for the third place winner.
Game Jolt will have awarded over $100,000 USD through game jams in 2022 alone to game designers, developers and their teams. "Winning teams have been able to start their own game studios, pay rent and further invest in their long term game projects thanks to our combined efforts in hosting these game jams" said Yaprak DeCarmine, CEO of Game Jolt.
While Game Jolt has been hosting game jams since 2009, partnering with the likes of publishers, sponsors and investors has allowed bigger cash prizes as well as opportunities to become a regular offering. Mentorships with game industry thought leaders, home page features on Twitch.tv and even publishing deals are among the rewards available to game developers and creators who participate.
Past game jams hosted on Game Jolt have featured high profile mentors, publishers and investors such as 505 Games, Team17, Griffin Gaming Partners, Xsolla, Dreamhaven and many others.
"It's inspiring to see Qatar embrace the games industry while highlighting and rewarding creations from the Middle East. At Game Jolt, our team is excited to continue supporting a diverse range of creators and giving them the platform to voice their own stories" said DeCarmine.
In addition to the cash prize, mentorship and opportunity to pitch for further funding, the winning games will get featured in a livestreamed playthrough on Game Jolt with professional esports team the Ooredoo Thunders.
Join the World Cup Game Jam community on Game Jolt to follow along upcoming announcements, registration information and the rules at https://gamejolt.com/c/worldcup
About Game Jolt
Game Jolt is revolutionizing social media with engaging and entertaining interactive content that changes how gamers and creators build communities. In addition to featuring image, video, and livestream sharing, the platform hosts themed events and mini games designed for the millions of unique artists, streamers, developers, musicians, writers, fans and content creators that call Game Jolt their online home. Game Jolt is available on web and on apps for desktop and mobile.
About Quest Esports
QUEST Esports is one of the leading esports organizations in the Middle East and North Africa. The team's diverse experience has allowed them to excel in multiple areas of esports, such as organizing and managing online and LAN tournaments and pro-team management, as well as media production through a dedicated in-house team.
Media Contact
Emily Ruth