Global Smart Buildings Market Poised for Rapid Growth by 2028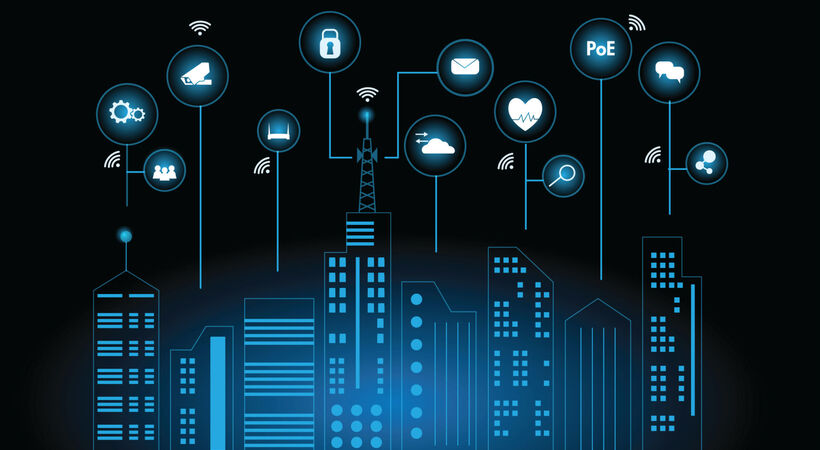 The smart buildings market is anticipated to grow from USD 80.5 billion in 2020 to USD 246.25 billion by 2028, at a CAGR of 15% over the forecast period of 2021–2028, according to a report by Fior Markets.
The growth of the smart building market is primarily being driven by the adoption of IoT-enabled building management systems, rising awareness of space use, stricter industry standards and regulations, and a growing demand for energy-efficient systems. However, the high initial investment is likely to hinder the smart building market's growth during the anticipated period.
A smart building is any structure that uses automated processes to control various building systems, including lighting, security, heating, ventilation, and air conditioning. In smart buildings, sensors, actuators, and microchips are used to collect data and manage it in accordance with the tasks and services of a company. With the help of this infrastructure, asset dependability and performance can be increased, resulting in energy savings, better space utilisation, and a decreased negative impact on the environment from the building. The same buildings that were around decades ago still exist but are not connected. They have consistently provided shelter, climate control, and safety for years. However, both brand-new structures and older ones that have been upgraded to become smart structures are constantly changing. They are actual living things that connect to a network and use intelligent, adaptable software. By offering lighting, thermal comfort, air quality, physical security, sanitation, and other services at lower costs and with a smaller environmental impact than buildings that are not connected, smart buildings, at their most basic level, increase user productivity.
The demand for safety, security, energy efficiency, and comfort in buildings is expected to increase, which will hasten the growth of the global smart building market. Smart buildings can reduce CO2 emissions, lower operating and maintenance costs, and increase occupant security and safety. Such elements are likely to fuel market expansion. Government initiatives and regulations, technological advancements, and the need for safety and security are likely to propel market growth during the anticipated period. Numerous new business opportunities are anticipated to arise with the development of smart grids and smart cities. A non-profit organisation in the US called the Green Building Initiative assigns grades and sets out rules for reducing environmental impact. Companies that use these concepts could contribute to an even greater market expansion. On the other hand, the high cost of implementation and assembly might impede market expansion.
Advantech Co. Ltd (Taiwan), ABB Group (Switzerland), Control4 Corporation (US), Cisco Systems (US), Emerson Electric Co. (US), GEZE GmbH (Germany), Honeywell International, Inc. (US), Hitachi Ltd (Japan), HCL Technologies Limited (India), Huawei Technologies Co. Ltd, (China), IBM Corporation (US), Johnson Controls International PLC (Ireland), Legrand SA (France), Panasonic Corporation (Japan), Overkiz (France), Siemens AG (Germany), Schneider Electric SE (France), Sony Corporation (Japan), and United Technologies Corporation (US).
Access the report's PDF sample Copy
In 2020, the market's dominant segment—energy management—held the largest market share of 19.5%.
The global market for smart buildings is divided into solutions and services based on components. The solutions segment is further broken down into IWMS, network management, security and emergency management, energy management, and building infrastructure management. Consulting, implementation, support, and maintenance are further broken down into the service segment. In 2020, the solution segment's subsegment for energy management had the largest market share, at 19.5%. Energy management systems help smart buildings use less energy and keep an eye on it. A smart building energy management solution can help owners and managers of multistory buildings, schools, or building complexes reduce operating costs, which is another ongoing challenge.
In the year 2020, the commercial segment dominated the market and had the highest market share (45.15%).
The market for smart buildings is divided into three types: commercial, residential, and industrial. In 2020, the commercial sector had the largest market share (45.15%). The demand for appropriate and tailored solutions for optimised energy productivity is credited with driving the growth of this market segment. These solutions must reduce building energy consumption without sacrificing comfort or security, as well as improve the energy performance of commercial buildings, which use more energy and generate more waste in the form of carbon and other solid waste.
Click here to read the press release