How Creamfinance is dominating the FinTech Market.
An Interview with Fintech experts and Creamfinance Team, Co-founders Matiss Ansviesulis and Davis Barons.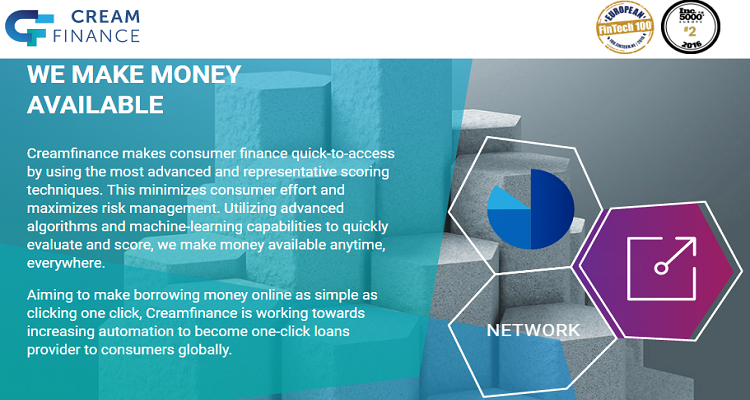 Q: "What can you tell us about Creamfinance? What exactly can we expect from Your Services?"
Matiss: Our company Creamfinance is an online consumer financial services provider. The company was founded by me and my business partner Davis back in 2012 with an intention to make personal finance easy and accessible for everybody in need. Consumer expectations for lending services are increasing – with improving technology consumers expect such service to be faster than ever, and for that purpose we aim to provide speedy service to the best of our abilities. To do so, we are focusing on becoming a one-click loans provider to consumers globally.
Davis: We are proud to have achieved success – within less than 4 years in the market the company has expanded both within and outside of Europe, and soon we are launching in two more.
Q: "Creamfinance is known for Financial Services. Is Creamfinance service offered directly to consumers? If so, how does the business model work?"
Matiss: Our business model is B2C: we lend to private individuals who are in need of short-term financial help due to unexpected circumstances. Our company is built on the idea of providing as much convenience as possible, hence the one-click loan offering. Usually, comparing our business to banks, customers are required to fill in complicated registration forms, they are asked to provide a number of scanned documents and the whole application process takes forever. Therefore, in our case, simple and straightforward application process matched together with the speedy lending decision translates into high conversion rates and increased customer loyalty. For that reason, borrowing online becomes as easy as clicking one click.
Q: "What are the details around the "Inc5000 Creamfinance and FinTech 100" Award?"
Davis: It may sound a bit cheesy, but we focused on business expansion and excellence in each of the markets we operate in, which turned out to be acknowledged internationally by Inc. magazine. International business expansion allowed us for higher and more impactful reach which translated into a 4542% three-year growth and an international acknowledgement. Looking at the rankings made by the magazine, Creamfinance ranked second in the list, and the first in Fintech category. To be recognized by Inc.5000 is a proof to ourselves that we are on our way towards building the most promising and responsive consumer finance company, operating worldwide.
Matiss: And when it comes to FinTech 100 award – we were very pleased to be acknowledged by the team, who has noticed a couple of our public appearances where we were sharing our experience on business success. Following that, we were encouraged to participate in the Fintech 100 competition for the most innovative Fintech companies across Europe and we made it to the final Fintech 100 list, which was affected and influenced by public vote. We were very excited to make to the final 100 – it proves that our customers, partners, investors and public in general understands and supports our business model and the intention to provide speedy, responsive service backed with the one-click offering.
Davis: Participation and acknowledgement in a number of competitions and awards simply proves that our business model works, and that we can expand the business further. It's a great feeling to realize that you have created something big and organic – a business that can grow, reach market leaders position and has a potential to become even stronger and more accessible in the near future.
Q: "How many years have you been operating? How does pricing work for Creamfinance?"
Davis: Creamfinance was founded four years ago in Riga, the capital of Latvia and has achieved consistent growth since. From the very beginning of our business we realized that we need to grow to have a higher reach and bigger impact, so we can say that business growth was in the DNA of our business. Within less than a year from launching business we launched in Czech Republic, followed up by the launch in Poland and other countries.
Matiss: When it comes to pricing – due to the fact that our market is very competitive, pricing is determined by the market. The market offers us a certain range in which we can raise our offer and based on our offer we get the clients. As a result of our operational excellence and enhanced scoring we are targeting the lower bound of this range and are leading to even lower pricing levels.
Q: "Will there be additional Services and charges from Creamfinance?"
Matiss: We are planning and expecting to introduce additional financial products in the near future. For the moment, however, we are focusing on current products, international expansion and higher reach across the countries that we operate in.
Q: "The Fintech and Finance market have many players, what differentiates Creamfinance?"
Matiss: Alternative Lending industry is very hot right now, so differentiation becomes crucial for businesses due to the simple objective to survive in the industry. Taking our smart data approach as well as focus on one-click loans to increase the speed of service, to date, there is no direct competition that would be working towards the same objective as us. We also proud to be working on improving our business having less than 10 times financing raised compared to our competitors. Despite the limited investment, our company proved to be successful: last year, in 2015, our company grew more than 100% and remained profitable.
Davis: I would say that our differentiation strategy can be summed up in one sentence: Smart data-based lending, powered by one-click loan offering.
Q: "Creamfinance is an Expert in Smart Data; could you tell us more about your achievements in this?"
Matiss: We are very excited and proud to be acknowledged as experts in Smart Data! It is obvious that a number of evolving companies these days are talking about big data and algorithmic credit scoring model using as much data as possible to make lending decision. Somehow this topic has become very trendy. But the main question is – how much data is necessary or even appropriate to improve your decision quality? Nowadays there is a big tendency to leverage unstructured data gathered about the customer via social media and other sources in order to increase a number of variables in the algorithms for the credit decision. Unfortunately, these data points do not add value.
Davis: Actually, based on our experience, only a few data points are value-adding. Keeping this information, our objective is to focus on quality data instead of volume. We have experimented quite a bit, and from our experience, models with lower number of variables result in higher stability, plus it's a lot easier for the customer during the registration process to provide little information – and that obviously translates into a higher conversion rate. I somewhere heard a new saying that Big Data = Big Distraction, and in our case it proved to be true.
Matiss: Since smart data is an accurate and consistent way of measuring whether it's appropriate to lend and maintain a high customer satisfaction by only necessary disclosure, Creamfinance focuses on smart data instead of big data.
Q: Creamfinance works with lending companies – could you tell us more about this?"
Matiss: We do so to expand investment opportunities and diversify the sources of financing – we are convinced that by such cooperation with peer-to-peer platforms, like Mintos, our loans will be more available to a wider circle of investors. Such, in turn, allows us to spread risk and offer investors more advantageous rates of return. Creamfinance has teamed up with peer-to-peer lending platform Mintos last year; through this partnership investors are offered an opportunity to invest in short-term unsecured loans issues in Georgia. The agreement was reached aiming to spread the risk. Following our agreement, we are interested in teaming up with other platforms as long as it's a win-win situation for both parties.
Q: "Creamfinance has been expanding its global presence with offices in Six Countries. Can we expect Creamfinance to expand around the world?"
Matiss: Yes, absolutely – our objective is to become a one-click loans provider to consumers globally. As mentioned earlier, our company Creamfinance has expanded both within and outside of Europe rapidly: we launched in Latvia in 2012 and have expanded further basically in the same year. At the moment, our company is operating in a number of markets within Europe plus Georgia, and we are launching in Denmark as well as Mexico within a couple of upcoming months.
Davis: It's definitely exciting to observe the growth of the company and be the part of it. We are happy to prepare for the launch in two very different markets compared to the ones we operated in up to this point: it will definitely be interesting and challenging to start lending in Scandinavia and South America, and that's something we're looking forward to starting soon.