In-Store Displays: Importance and Benefits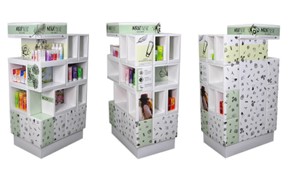 The global Point of Sale (POS) displays market size was USD 12.65 Bn in 2022 and it will reach USD 25.70 Bn by 2031, expanding at a CAGR of 8.26% during 2023–2031. This growth is attributed to the increasing demand for POS displays from various industries and businesses due to the growing trend of retail shopping.
What are Point of Sale (POS) displays?
POS stands for point-of-sale. It is a type of physical marketing tool installed by retailers that are used for sales promotion in which products are shown in a displayed cabin near to checkout register or next to the bill payment counter of the store.
Point of sale materials includes numerous displays such as dummy packs, shelf talkers, strut cards, standees, end caps, hanging signs, display packs, wobblers, dump bins, floor graphics, digital displays, posters, and banners.
What is the Point Of Purchase Display?
A point of purchase (POP) display is a physical or digital marketing tool that is placed anywhere in the retail environment. It is also used to advertise and promote products that encouraged customers to make purchasing decisions. It can be used for large amounts of products.
Get a Free Sample Report @
https://growthmarketreports.com/request-sample/264
Types of POS and POP:
POS and POP are classified into two categories:
On the Basis of display Types
Floor displays are portable free-standing fixtures that help to display products with brand messages. It includes floor graphics that come in various shapes and sizes and is mostly used in stores for selling clothes and gift items.
Free Standing Display Unit:
It is a standalone off-shelf display that is used for holding products from which a consumer will shop. It includes customized cardboard shelves used in grocery stores.
Counter Top Display Unit:
The countertop display unit is normally placed on top of the shop counter and used to display products such as chocolates. It includes a variety of printed corrugated boards, acrylics, and printed boxes.
The shelf edge is a widescreen LCD display designed for advertising products. It is mostly used in supermarkets, clothing stores, liquor stores, theaters, electronic shops, and other retail applications.
On the Basis of Durability
Temporary displays are made from corrugated cardboard that is designed for a short period of time. It is cheaper and can be recycled and placed anywhere. It tends to last only about three to six months.
It is more durable than temporary displays as it is made from heavy-duty cardboard and wood. It tends to last from six months to a year.
Permanent displays are made from metal, wood, glass, and heavy-duty cardboard that are designed for a long period of time. It tends to last from one to three years. It is mostly used in malls and clubs.
Benefits of POS and POP:
It is used to advertise and promote products or services.
It helps to grab consumers' attention towards the product.
It lets your products speak for themselves.
To create brand awareness by providing detailed information about the product.
Know More @
https://growthmarketreports.com/report/pos-display-market-global-industry-analysis
POP Vs POS: Difference
| | |
| --- | --- |
| POP | POS |
| It refers to the customer's interaction with products anywhere inside the store. | It refers to the customer's interaction with products at the front-facing or payment counter. |
| It is large in size and is costlier. | It is smaller in size and cheaper. |
| It is specifically designed for a large number of products. | It is designed for less amount of products. |
| It is a great way to place in high-traffic areas. | It is useful in fewer traffic areas. |
What is Marketing POS And Why It Is Important?
Marketing POS or POP marketing is a creative idea of a marketing campaign that is placed inside the store for the promotion of products. It is specifically designed to increase the number of purchases at the point of sale. It is also known as point-of-sale advertising. It includes signage, billboards, and other displays.
It is important in many ways:
It differentiates the brand.
It creates a brand image and brand identity.
It increases clients' familiarity with the campaign and branding.
It encouraged consumers to spend more.
It helps to increase sales and revenue.
What does POS stand for in Retail?
Point of sale (POS) in retail is the time and place where the transaction of sales takes place through the point-of-sale terminals. POS system is a combination of software and hardware (point of sale terminals) that allows one to accept payments from customers and keep track of sales. It includes barcode scanners, cash drawers, receipt printers, and card readers.
POS is placed near to checkout register of the store. Whereas, POP is placed anywhere in
the store to promote and advertise sales. They are classified on the basis of display types
and durability. The rapid expansion of stores such as supermarkets' high demand for POS
and POP displays due to growing awareness about their importance and benefits
encouraged consumers to adopt this system as it helps to increase sales.