Innovative marketers go "old school" as email and Facebook decline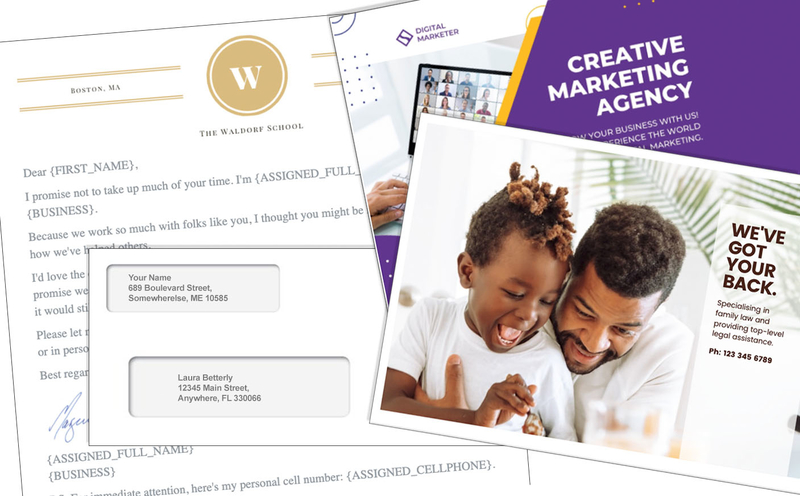 Entrepreneurs using marketing automation tools turn to direct mail for better results
For the past 20+ years, businesses have relied on email as a primary communication tool to market goods and services to new prospects and stay in touch with existing customers. Today, email inboxes are overcrowded, with more advanced filters and privacy measures making it increasingly less effective to rely on email alone. Open rates and response rates are declining, especially as users rely more on their phones and other instant messaging apps.
Many marketers have turned to text messaging to bypass email filters and inbox barriers. Surveys show that consumers actually prefer a text message over an email. But this too has become an increasingly crowded channel, overused by political campaigns and traditional consumer companies. It is also a regulatory minefield, with restrictions and regulations prohibiting unsolicited text messages sent to contacts one doesn't have a prior relationship with.
Both Apple (AAPL) and Google (GOOGL) have introduced new privacy measures that make it even more difficult for marketers to get their message across via email or text. While email traditionally has been very cost effective, other avenues such as social media – Facebook in particular — have become more crowded, much more expensive, and difficult to get the response rates previously achieved.
Direct mail delivered by the postal service gaining new life
Now innovative marketers have gone "old school" and are finding increasing success with direct mail letters sent via the postal service. Professional business letters and attractive postcards are once again finding their way into physical mailboxes and prospects are responding. In fact, the ROI on direct mail is higher – and more cost effective – than social media or online advertising.
In 2021, direct mail open rates reached nearly 90%. Compare that to the 23% open rate that Mailchimp estimates email marketing enjoys, and the power of direct mail becomes evident. Forbes estimates 42% of recipients read, or scan, the advertising mailers they receive. This is double the number of people that open an advertising email. And response rates are equally impressive. 
One tool enabling small businesses to affordably send personalized postal mail along with email and text messaging is called CLOSEM.
CLOSEM couples a contact management (CRM) tool with a marketing automation platform, and recently announced a breakthrough in communications for small businesses and entrepreneurs looking to increase sales.
CLOSEM's marketing automation, sales follow-up, and messaging platform has always included email, along with SMS texting and voice.  Now users can affordably send personalized postal direct mail – first class business letters and promotional postcards — right from within the platform. 
"CLOSEM users enjoy an easy to use system that automates the time-consuming process of outreach and follow-up," says Laura Betterly, CLOSEM co-founder. "We want to level the playing field for small businesses and entrepreneurs by giving them advanced messaging capabilities at a reasonable price. CLOSEM lets users take an all-inclusive approach by combining email with texting and postal direct mail without relying on one single channel. The key is keeping it automated, personalized, and affordable, and we've done that."
CLOSEM users can use any of the attractive direct mail templates the company provides or create their own. There are no minimum orders and no set up charges. There's no need to purchase printed materials in bulk, pay someone to stuff and stamp envelopes, or drive it to the post office. Now small businesses and solo entrepreneurs can get an effective message out, without having an internal marketing team or paying a fortune to outside contractors. Users can send a single letter or 10,000 with the click of a mouse.
This is also of particular interest to companies based outside the US. Regardless of their location in the world, they can send offers delivered by the postal service to addresses in the US and Canada at local postal rates, not international. Since the mail is printed locally, the delivery times as well as the costs are minimal.
 "I was surprised – I thought direct mail was really costly and had to be done in massive volume to be affordable. CLOSEM allows me to send small amounts of targeted, personalized first-class mail with a  couple clicks," said Steve Blom, a CLOSEM user in Florida. "I'm getting a much better response than I was sending emails alone."
 ABOUT CLOSEM. A highly-rated, cloud-based software-as-a-service (SaaS), CLOSEM users pay a monthly or annual subscription for the product, noted for its ease of use, outstanding customer support and professionally-written message templates. You can find out more about CLOSEM by visiting their website at https://closem.ai. CLOSEM has a growing user base and is an attractive business model for investors due to its low overhead costs and predictable, recurring revenue. They have recently launched an equity crowdfunding campaign at https://us.trucrowd.com/equity/offer-summary/CLOSEM