Interview with Ampersand Markets: Most robust use of blockchain in the metals world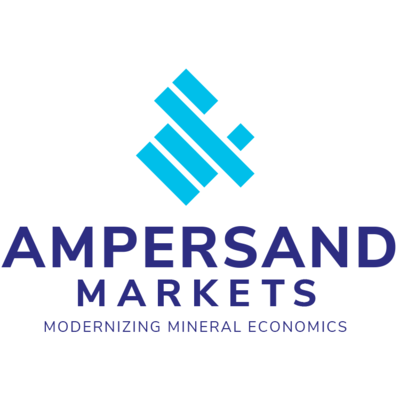 Q: What can you tell us about your company?
Our focus has been on offering a token structure to accommodate, and ultimately a venue to centralize, the in-ground mineral deposits of mines.
To this end, we find it useful to think about a "hybrid" token structure in which the buyer first purchases a Digital Right in order to have access to the below spot price economics of the minerals. Blockchain fits this problem like a glove because so much more visibility and verifiability is helpful and needed in the case of assets
which are subject to default risk and not neatly sitting in a vault already audited daily by the likes of Brinks.
The development is headed up by Satya Avala, who formerly ran Yahoo! Finance.
Advisors include Paul Rieger, from RCM Alternatives, and Jason Urban from Drawbridge Lending.
Q: What types of services offer?
With the platform up and humming, we will provide an interesting and compelling venue
for the likes of investors (who want to enjoy the yield implicit in buying below spot) and for industrial buyers, who willing to wait 3-6 months can also get below spot pricing.
Moreover, for the trading world, the possibilities are endless. In-ground tokens have no storage costs, there are default risks to model and delivery schedules to anticipate.
There are surpluses and deficits on production, and a myriad of possibilities for pricing against the traditional comex markets which reference above-ground vaulted metals sitting in properly regulated and compliant depositories.
Q: Are you targeting the consumer or business market? How does the business model work?
Ultimately, our business is an exchange. There are listing fees, market data fees, membership fees implicit in the purchase of the Digital Rights to acquire product,
and all of the other customary fees associated with an exchange.
Participants on the buy side are investors and industrial buyers. So there are both B2C and B2B elements of our application to market.
Q: What can you tell us about what you have in the pipeline?
For the moment, we have offered a proof of concept vaulted silver token, available in a private token sale. The Digital Right contained in those tokens can be affirmatively utilized to participate on the buy side of the in-ground minerals exchange.
We are in the process of aggressively recruiting mines, exploration companies, mining finance companies and others to agree to listing agreements in advance of the launch of our exchange. We are covering industrial metals and rare earths in our roll out. For rare earths, in particular, we are very excited for the value offered to our venue and for price discovery.
Q: What differentiates your company from the competition?
No one else, it appears, has figured out an appropriate way to tokenize in-ground assets, much less figured out the regulatory posture to support these offerings on-shore.
We are perhaps first (or among the first) to market to think about this approach. We are likely the first to conceive of a platform to support and centralize the buyers and procurement actors. And we are also likely the first to take a forward-thinking approach
to recruiting the participation of prop trading participants in anticipation of making a robust marketplace which lends itself to cross-venue arbitrage and exciting opportunities for modeling and capturing alpha.
Q: Could you tell us more about your company achievements so far?
The first big achievement was to contemplate the appropriate token structure in order
to accommodate or encapsulate participation in in-ground minerals. This is our hybrid
two-part token consisting of a Digital Right and tokenized mineral.
The second big achievement was to offer our proof-of-concept silver token on the EOS platform. We are one of the first tokens on EOS, and even the CEO of Block One shared news updates about our project because of its significance as an early adopter of the EOS platform.
Third, our legal team at Handler Thayer LLP thanks to months on ingenuity has architected a way for us to offer these tokens completely on-shore and in compliance with all US laws. They are currently working on paving the way for exchange compliance, in concert with our exchange-specialist counselManatt Phelps & Phillips.
Q: Could you tell us more about where you see your company in the future?
We want to be the definitive and gold standard venue for in-ground minerals.
Because of some of the metals industry actors we have been fortunate to recruit in our inner circle, we are confident this rollout will see robust and enduring participation.
Our parallel recruitment of prop trading participants is designed to get early feedback on beta and to improve the platform on launch, to a waiting list
of thousands or more participants.
Our presence in the marketplace will offer mines an alternative for capital needed for operations, and a way for traditional streamers such as Franco Nevada, Sandstorm and Wheaton to diversify their PPM-style approach to financing mine projects.
Q: What are the key elements you want readers to take away from this interview?
I would argue we are making the most robust use of blockchain in the metals world.
The technological and governance requirements associated to hidden reserves subject
to default, surplus and deficit are fascinating and complex and bring the value of blockchain into a clear focus.