IT Services Market is Going to Boom in Japan
Stay up-to-date with Global IT Services Market research offered by HTF MI. Check how key trends and emerging drivers are shaping this industry growth.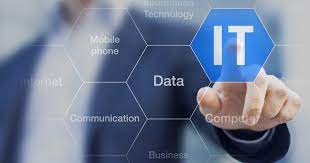 HTF Market Intelligence released a new research report of 53 pages on title 'IT Services in Japan – Market Summary, Competitive Analysis and Forecast to 2025'  with detailed analysis, forecast and strategies. The market Study is segmented by key a region that is accelerating the marketization. The study is a perfect mix of qualitative and quantitative Market data collected and validated majorly through primary data and secondary sources. The market research includes historical and forecast market data, demand, application details, price trends and company shares.
Download Free Sample Pages PDF @  https://www.htfmarketreport.com/sample-report/3336992-it-services-in-japan-market
Summary
IT Services in Japan industry profile provides top-line qualitative and quantitative summary information including: market size (value and volume 2016-20, and forecast to 2025). The profile also contains descriptions of the leading players including key financial metrics and analysis of competitive pressures within the market.
Key Highlights
– The IT services industry is valued as the combination of the business process outsourcing (BPO) services market, the application services market and the infrastructure services market. Values include revenues generated from (a) signed deals that remain under contract and (b) new contracts signed within that particular calendar year.
– The Japanese IT services industry had total revenues of $95.9bn in 2020, representing a compound annual growth rate (CAGR) of 11.5% between 2016 and 2020.
– The infrastructure services segment was the industry's most lucrative in 2020, with total revenues of $62bn, equivalent to 64.6% of the industry's overall value.
– The IT services industry is highly correlated with the gross domestic product (GDP) of a country.
Scope
– Save time carrying out entry-level research by identifying the size, growth, and leading players in the IT Services market in Japan
– Use the Five Forces analysis to determine the competitive intensity and therefore attractiveness of the IT Services market in Japan
– Leading company profiles reveal details of key IT Services market players' global operations and financial performance
– Add weight to presentations and pitches by understanding the future growth prospects of the Japan IT Services market with five year forecasts by both value and volume
Reasons to Buy
– What was the size of the Japan IT Services market by value in 2020?
– What will be the size of the Japan IT Services market in 2025?
– What factors are affecting the strength of competition in the Japan IT Services market?
– How has the market performed over the last five years?
– How large is Japan's IT Services market in relation to its regional counterparts?
Companies Mentioned in the Report
Fujitsu Limited
International Business Machines Corporation
NEC Corporation
NTT Data Corporation
Make an enquiry before buying this Report @ https://www.htfmarketreport.com/enquiry-before-buy/3336992-it-services-in-japan-market
Table of Contents
1 Executive Summary
1.1. Market value
1.2. Market value forecast
1.3. Category segmentation
1.4. Geography segmentation
1.5. Market rivalry
1.6. Competitive Landscape
2 Market Overview
2.1. Market definition
2.2. Market analysis
3 Market Data
3.1. Market value
4 Market Segmentation
4.1. Category segmentation
4.2. Geography segmentation
5 Market Outlook
5.1. Market value forecast
6 Five Forces Analysis
Thanks for reading this article; you can also get individual chapter wise section or region wise report version like North America, Europe or Asia.
Buy this report @ https://www.htfmarketreport.com/buy-now?format=1&report=3336992