Most In-Demand Career Opportunities in Web3, Blockchain, NFT & Metaverse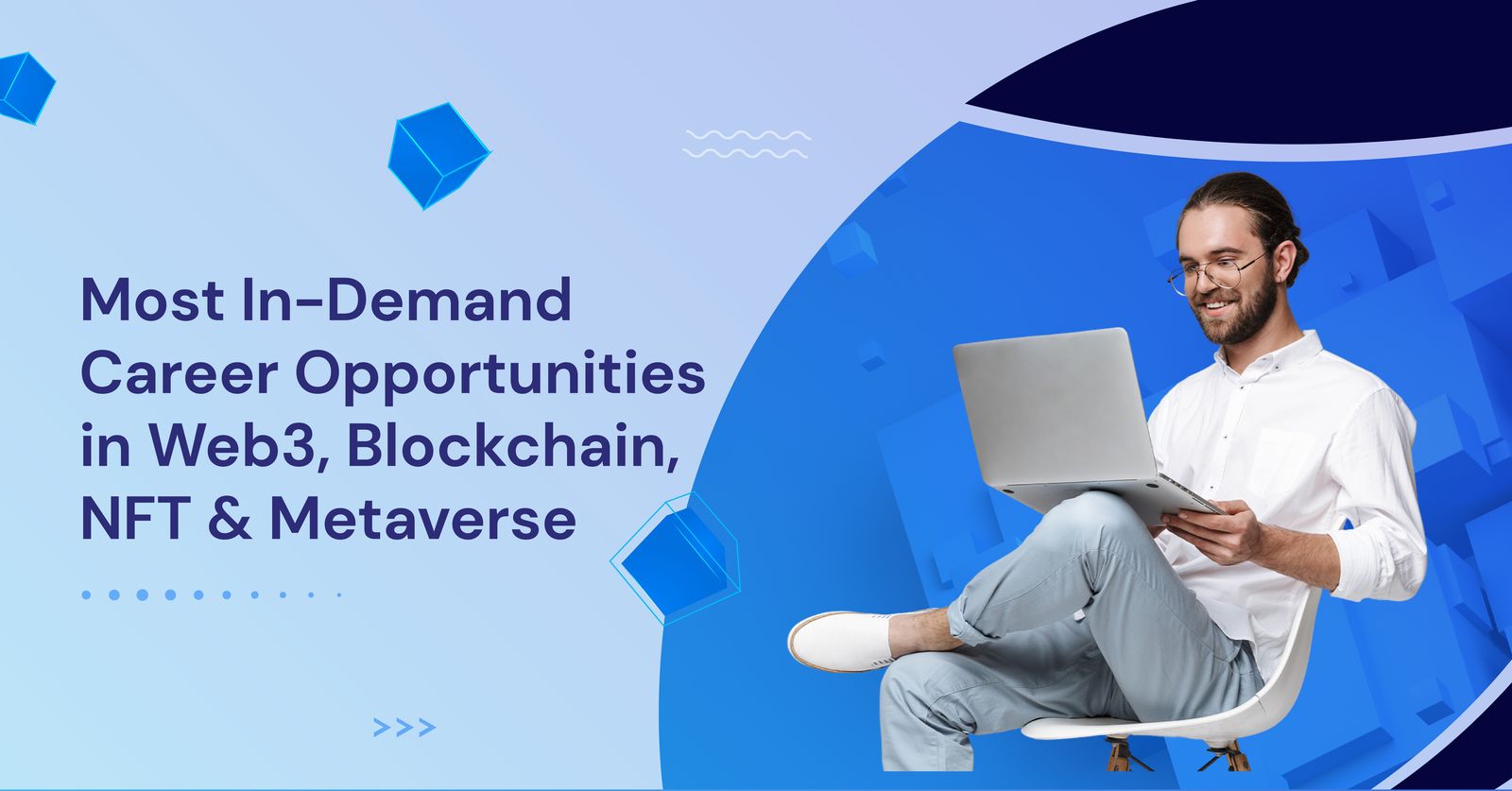 When we use our smartphones today, do we ever think about all the events that brought us closer to the advanced technological era we live in? Technology has so deeply marked its presence in our day-to-day lives that we hardly think about the time when it was not there. Turning the pages of human history to less than 30 years ago brings us to the time when the internet was nothing more than a myriad of imaginations. With each step of development, the imaginations began transforming into practical realities. The reality helped to revamp human civilization and society. It changed the way we work, think, and live. Each shift towards technological evolution pushed us towards a liberal, open-sourced, and independent future. 
Technological evolution ushered us into the cluster of the decentralized web, or Web 3.0, as we popularly call it. The growth of new-age technologies like cryptocurrencies, NFTs, and blockchain paved the way for this decentralized economic infrastructure. The blockchain architect community started experimenting with the potential of DLT and came up with advanced crypto versions called stablecoins and NFTs. The rise in the popularity of blockchain also brought Metaverse technology into the limelight. Though these modern concepts have roots dating back to the 90s, they gained momentum only in the past few years span. 
As more and more firms started venturing around Web 3.0, metaverse, blockchain, and NFTs, they opened doors for new job opportunities. Today, a huge hub exists for blockchain and web3 enthusiasts willing to utilize their expertise in creating innovative products. In this article, we have covered 6 top career options in the field of blockchain, metaverse, web3, and NFTs. You can choose your favourite job from the list below based on your skill preference. Have a look:
Getting hired as a blockchain developer is a dream for tech enthusiasts worldwide. The career has emerged as one of the most sought-after opportunities for those who have a nudge for blockchain and are also looking for good payments. Blockchain developers are programmers who create blockchain-based apps or DApps for business firms. Since they must provide great solutions and services and possess in-depth technological knowledge, their position is highly regarded and well-liked within an organization.
The two main categories of blockchain developers are:
Key blockchain developers, and 

Software blockchain developers
A professional blockchain developer is a blockchain expert who should have expertise in data structures, web development, cryptography, and the construction and operation of blockchains. Having knowledge of NET, C++, XML, and other technologies comes as a perk and gives an edge to a person over competitors. 
Web3 and Metaverse Designers
The metaverse is a 3D space that brings the real world into a virtual space through technology. It uses VR, AR, and Hybrid Reality to create a virtual world that offers real-life experiences to the users. With global giants like Meta highlighting the metaverse, it is needless to say that the technology is here to stay. With its expansion, the sector has unlocked employment opportunities involving Metaverse expert engineers, designers, product managers, etc. 
Interestingly, Web3 and metaverse designers are in high demand presently. It goes without saying that there will always be a need for designers to satisfy the needs of the burgeoning metaverse and Web3 market. In fact, the surge is expected to keep widening because of the urge to maintain a visual identity as part of a business plan, product promotion, or simply to mark an online presence. 
Due to a decentralised internet, business enterprises need designers to develop innovative ideas. This has increased the popularity of web3 and metaverse designers who are working as freelancers, agents, and in-house employees. The development of Web 3 and the people and businesses that run it will be significantly influenced by the creations of these designers.
Without a specialist to refine it, AI-assisted content creation can only go so far, and the metaverse promises an almost limitless market for fresh, carefully considered, and expertly executed designs. An expert metaverse designer can unlock the creative paradigms and create a digital world that outperforms the physical realm. 
Interestingly, a successful web3 and metaverse designer career largely depends on their understanding of marketing, product development, and cryptocurrencies. The third generation of the internet probably has much to offer to people with exemplary skills. 
See Also: Know More about What is metaverse?
Web 3.0 is an umbrella term that involves new-age concepts like Augmented Reality (AR), Virtual Reality (VR), Metaverse, 5G, cloud computing, blockchain, cryptocurrencies, etc. The growth of online communication, from chat services to the advent of augmented reality, has put a lot of pressure on tech and gaming firms to manage massive volumes of data and information that go far beyond what can be found through Google searches. 
Software engineers with expertise in blockchain technology, AR, and VR are in high demand to serve the growing tech market space. These individuals possess exceptional skills in large-scale system designing, networking and data storage, distributed computing, artificial intelligence (AI), information retrieval, natural language processing (NLP), user interface design, etc. A solidity developer can also fetch a job in this field. 
Tech giants like Amazon, Google, and Meta recruit software engineers specialising in blockchain technology and AR/VR to enjoy exposure in the concerned fields. It would be necessary for these specialised engineers to work on Android Native, Android Java, and other related programming languages. A degree in software engineering is a must for this job position. The individual with certified courses in blockchain architecture and Web3 applications is given preference over others. 
Game Developer and Accelerators
Blockchain-based games and Metaverse games are gaining popularity amongst game lovers across the globe. This has induced a potential job opportunity for game developers. One needs to be at the vanguard and heavily involved in prototyping, building, designing, and selling Metaverse or blockchain-based games to serve as a game designer. 
Game developers create VR games in collaboration with a firm's product, design, and executive teams. They offer real-time input and swiftly fix any problems that might surface when the game is in beta testing or is live. As NFTs form an inevitable part of the e-gaming hub, becoming a gaming developer is an interesting choice for an NFT expert. The field is a perfect choice for someone who is interested in gaming and possesses knowledge about Non-Fungible Tokens. 
Game accelerators impart expert knowledge to a firm's founders and guide them through development. They primarily concentrate on expanding Web3 game platforms. These knowledgeable incubators and accelerators guarantee support for creating new gaming businesses. Additionally, they offer cutting-edge equipment and technical options for creating and improving Web3 games. They promote Web3 gaming financially by bringing together all gaming stakeholders and investors.
Community managers will be in ever-increasing demand, particularly those who are familiar with the cryptocurrency industry and social media platforms like Reddit. It involves more than just accumulating followers, launching advertisements one after another, or responding to comments. It involves managing and guiding a group of tens of thousands of supporters, investors, and enthusiasts. Community managers inform the interested parties about the blockchain project, the decentralized application, the team's ambitions, future prospects, etc.
Anyone in the cryptocurrency field today would tell you that a Dapp community is what will ultimately determine the viability of the decentralised cluster. Even though community managers are currently undervalued, the future undoubtedly looks promising for them. A company is built on relationships. To achieve this, a community manager must be well-connected, well-read, and well-informed. Community managers help to make things happen for the business entity in the most profitable way. 
Product managers are in charge of selling social VR experiences that would improve remote presence and deepen human interactions. Informing the outbound marketing with internal partners, product managers are active in the inbound phase of product marketing and strategy. Understanding the user's viewpoint, obtaining fair feedback, and grabbing the reasonable possibilities to increase relevance to the market would be their key priorities. For instance, if you want to become a DeFi expert, then being a product manager for a DeFi project, you must have complete knowledge about DeFi. The managers need to understand the minute details of the project and then convey them to concerned parties.  
Conclusion
With web3, blockchain, metaverse, and NFT sectors entering the mainstream business, many job opportunities will certainly arise in them. These industries will soon emerge as one of the top sectors to hire young tech-savvy's. 
The market is thriving with a plethora of job options available for technology lovers to choose from. As the technologies are still nascent, one can utilise this time to hone their skills and get an edge over others. Learning about blockchain technology and programming languages can help you land a good job in the sector. Today, a knowledgeable Ethereum developer has become a valuable asset for blockchain-based firms. 
Once you are confident in the skill set you can offer to the table, you may start looking for work. And locating those amazing opportunities begins with figuring out the particular domain region you are most enthusiastic about. Try out any of the aforementioned job choices and create a strong career for yourself. 
You can enrol in Blockchain Council's certificate courses on blockchain and metaverse and become a blockchain expert. The courses provide subjective and practical knowledge to the participants. The candidates willing to learn about the basics of crypto, blockchain, and metaverse can choose their favourite course from the long list of options available on the portal.