Punch x Yodsi – Secure domains to build a stunning portfolio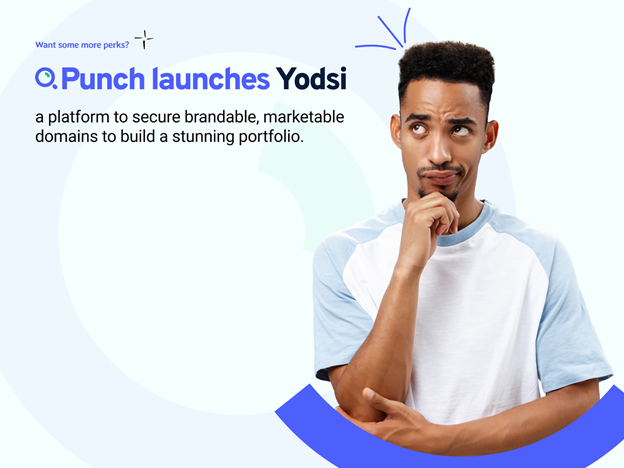 Yodsi uses cutting-edge A.I. to help entrepreneurs and CEOs build a portfolio of .com domains for any project.
Punch launches Yodsi. Punch, an ex-Google – Silicon Valley team of engineers, designers, and growth marketers has always been one step ahead on the entrepreneurial side of things. For the past year, they have been working on developing new products and projects that are fueling their growth. 
In the development of these new projects, however, they encountered a constant problem. They were not able to get a domain for the names they picked within a reasonable range. Domain squatters had already bought up all available domain names and were asking for exorbitant amounts for ownership.
The team at Punch worked to transform this problem into an opportunity. "We knew there was a simple solution to the problem, it was only a matter of when and not if", said Senior Software Engineer at Punch.
Punch was developing a new A.l./ML company at the time and consequently had the same problem of finding a good name for it with an available .com domain. The two worlds collided when the Punch team used outlined processes at the new AI/ML company to develop a model to give them available, brandable and marketable domain names.
The Punch team knew they were going to need a ton of new names for future products, so they wanted to build a system that would help curate a fresh stream of available .com domains regularly.
 First, they identified sources from which they could regularly extract new domain names. But soon the main hurdle reared its head. Most domains sounded off, not marketable, and just plain old weird. Punch knew this was a possibility and started to build the A.I. model that would filter out only the best domain names and curate them into a neat list.
Taking a step further, the Punch team built a system that would categorize these titles into domain-specific buckets. A name like Google, for example, would be categorized as an Internet Software/Technology company. The model worked beyond expectations. Punch, putting their money where their mouth is, used the model to give their A.I./ML company its name: Joodla. 
Punch realized the potential this model could have and started to build it out as a service. They used the model to first give it a name: Yodsi. 
Punch built out Yodsi to have the following features:
Yodsi A.I. Driven 5-Star Rank

Yodsi Brandability Score

Yodsi Memorability Score
Punch has been using Yodsi to not only name their new products but also lock down the domain for that particular brand. The 5-star ranking, brandability, and memorability work together to give a complete package. Punch used the model to find names such as Zwilt, Recrowdly, Joodla, Leelar and hope to find more of the same in the future.
Punch is officially launching Yodsi as a service and is inviting entrepreneurs, CEOs, decision-makers, and more to use the service and find the name of their next project and idea.
Yodsi founder had this to say when we asked him about the brand: 
"Sometimes just a name can give you the inspiration you need, or point you in the right direction. We found that to be true time and again with the domain names Yodsi was giving us. It used to be so frustrating having the perfect name at hand but not being able to find a domain name really put the nail in the coffin for a lot of names. Yodsi basically solves both problems!"