Request Finance Releases A New Payroll Feature, Helping Teams Manage Salaries in Crypto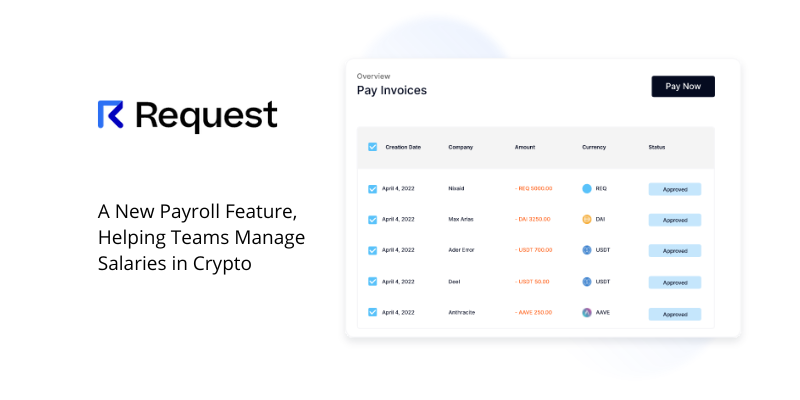 Request Finance has released a new payroll feature that allows enterprises to automate salary payments in crypto. This move is yet another step towards the company's goal of helping businesses move away from centralized, traditional financial systems and into the Web 3 era. 
In January 2021, Request Finance launched an app that allows anyone to send, receive or pay invoices in crypto. With Request, businesses can invoice, get paid, and pay employees within the same platform – making it easier to adopt crypto payments in a more compliant manner for tax and accounting purposes.
When it comes to managing payables like bills from remote-working freelancers, invoices are a great way of organizing your organization's expenses. But, particularly for globally-distributed teams, paying salaries and bonuses in crypto is increasingly common. 
That's where Request's new payroll feature comes in: businesses can now automate salary and bonus payments in over 150 cryptocurrencies and stablecoins, making it even easier to use crypto as a means of payment. 
According to the company's latest monthly report, USD-denominated stablecoins continue to be a popular choice for enterprise crypto payments, making up over half (55%) of the invoices paid on Request Finance.
At its core, the team at Request Finance aims to make scheduling and settling salary payments as effortless as possible, thereby giving businesses time to focus on other areas to grow their company.
One of the main benefits of using Request's payroll feature is that businesses can now take advantage of the blockchain's speed, security, and transparency. With traditional methods, such as wire transfers, it can take days for payments to go through – if at all. 
A research study by Accuity estimated that in 2020, failed payments cost the global economy $118.5 billion. Furthermore, the study found that nearly a fifth (18%) of organizations report a failure rate of 5-10%.
Employees, too, stand to benefit from the higher yields that they can earn on their savings denominated in stablecoins or cryptocurrencies, as compared to fiat held in bank savings accounts.
How to Pay Salaries in Crypto
Businesses must create a Request account to use the new payroll feature.
The next step involves uploading team member details such as names, emails, titles, and crypto wallet addresses.
Request Finance allows its users to settle invoices and payroll from over 150 crypto coins and stablecoins, not to mention access to 14 payment networks, including Layer-2 networks like Polygon and BNB Chain, which offer much cheaper transaction fees than Ethereum.
After all team members' information is uploaded, businesses can select the frequency of payments, whether it be monthly or weekly. They will also need to specify the amount and currency they would like to use as payment for their employees.
Once all these steps are complete, the user can hit "send," and the platform will automatically generate and distribute the payments to the team members' wallets.
With just a few clicks, you can also view the history of your salary payouts or check out which team member was paid and when.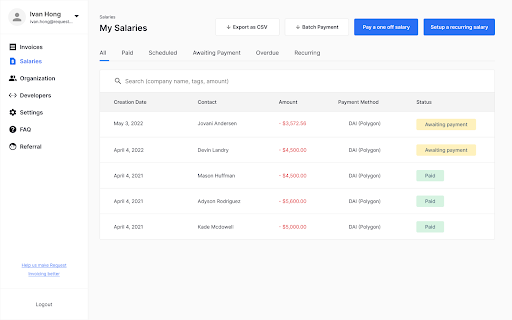 The Future of Web 3 Finance
This new payroll feature is one of the latest developments in Request's mission to make it easy for businesses to use crypto.
By providing a seamless and easy way to manage finances in cryptocurrency, Request is leading the way in driving greater adoption of digital assets among enterprises.
According to the company, the new payroll feature "is just the first version of what the company imagines to be a fuller crypto payroll solution."
In the future, Request Finance hopes to simplify how businesses handle their finances, making it even easier for them to take advantage of blockchain technology for cross-border payments.
Ivan Hong, Content Lead at Request Finance, added, "salaries are just one component of payroll, which consists of other things like bonuses, sales commissions, or even withheld taxes. There are also many other geographically-specific states or national regulations around payroll."
Conclusion
As the move towards a Web 3 internet grows, it's great to see companies like Request Finance leading the way in bringing blockchain technology to the mainstream. 
The new payroll feature is just one example of how this company is making it easier for businesses to take advantage of all that DeFi offers. Web 3 promises to be a game-changer for business operations, and Request is at the forefront of making that happen.