Restore Windows on public access computers with Reboot to Restore Technology
Now restore Windows PCs with ease using Reboot to Restore Technology. It provides constant protection to public access computers by restoring them to pristine configuration on each reboot.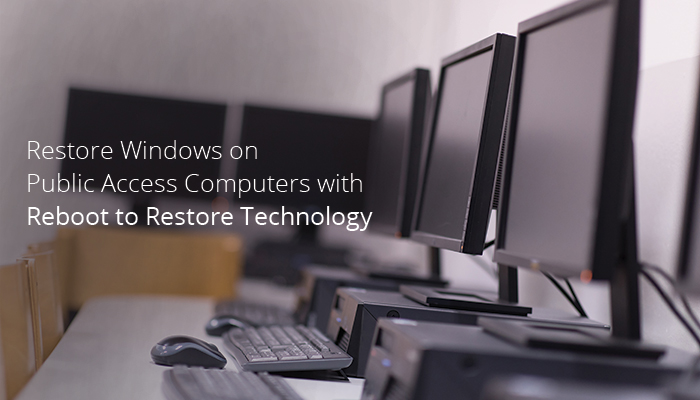 Public places like hotels, libraries, hostels, and public transport terminals are focusing on providing uninterrupted internet and upgraded systems, so that customer satisfaction is not compromised at any point. While such facilities continue to eliminate the constraints imposed by location and time for users, it poses several challenges for IT administrators to ensure security and maintenance of systems. Workstations in these places are accessed by people with different usage requirements. Various files, drivers and extensions are downloaded/installed for performing different tasks. Ensuring uptime of computers is the most challenging task in such multi-user computing environments due to their increased vulnerability. Although maintenance of systems is imperative for optimum performance, imposing restrictions on usage is not the best solution. It significantly impacts customer experience. On the contrary, poor performance of computers leads to downtime and affects productivity.
The other side of the challenge is the mounting IT costs. Frequent device replacement due to system failures also impacts operational costs. To summarize, IT teams managing public access computers require a quick and simple solution that ensures adequate protection without the need for having IT professionals around.
Windows, being the most widely used operating system worldwide, has a number of in-built programs like System Restore and System Recovery, to resolve IT issues for public access workstations. But despite the presence of such inbuilt programs in the Windows OS, organizations prefer 3rd party solutions like Faronics Deep Freeze for system restoration and recovery due to their limitations.
System Restore in Windows 10 and its limitations
Windows System Restore resolves system malfunctions and performance issues by reverting the device to a previous point in time, when the issue was not existing. The program is pre-enabled in some Windows PCs, while on others, it needs to be manually activated. When System restore is activated, Windows starts capturing snapshots of the system configuration at regular intervals. Referred as Restore Points, these snapshots revert the device to address issues. Restore points are also created before every critical change in the system configuration such as Windows Update, driver update, installation or uninstallation of new software, and so on. When the device starts to malfunction, users can access the System Restore and roll back the device to a restore point. It is indeed a simple way to resolve system issues. However, for effective restoration, users need to remember the restore point when the issue had not occurred. If the issue persists even after the restoration, users have to repeat the process and select an even older restore point. Besides, certain malware penetrate too deep into the system for System Restore to remove it. System Restore also relies heavily on IT intervention as it does not roll back device automatically. To conclude, the restoration capability of Windows 10, is a simple method to address system issues, but not a comprehensive solution, especially for public access computers.
System Recovery Options in Windows 10 and their limitations
Microsoft has been regularly upgrading Windows Operating System (OS) with newer and more advanced features. In the field of system security and restoration, the latest version has a few effective options to offer.
In addition to System Restore, Windows 10 users have the option to 'Reset this PC', in occasions of the former failing to resolve an issue. Another option is to 'Recover from a drive,' which is useful if the PC fails to start up. Users can leverage this option only if they have created a recovery drive for such incidents. Alternatively, there is the old-school option of reinstalling the OS using an installation media. An advantage with the latest Windows OS is that it allows users to roll back to a previous version, such as Windows 8. However, it would be available only for 10 days since the fresh activation of the OS.
Windows 10 provides a range of restoration options for system issues. However, users have to have a level of technical understanding in order to execute any of these programs appropriately. Reinstallation of the OS using the recovery drive or external media particularly involves technical expertise. Besides, the restoration options are manual, which require on-site troubleshooting. Downtime is therefore unavoidable when multiple systems are in question.
Faronics Deep Freeze for Public Access Computers
Faronics Deep Freeze is particularly useful for public access computers. The 'reboot to restore' technology significantly reduces dependence on IT. The software ensures that the desired system configuration is preserved and restored irrespective of the number of users accessing the system. In addition to standalone devices, Faronics Deep Freeze works well for enterprises as well. Its central management capacity allows IT admins to monitor and control hundreds of devices from a single location. This cuts down maintenance costs and system downtime, and boosts up productivity. As each reboot restores the pristine system configuration, administrators provide users unrestricted access and yet ensure that the system performance is not down for the next user.
How Deep Freeze overcomes the limitations of Windows restore and recovery options :
Faronics' Deep Freeze, with its patented 'reboot to restore' technology, makes system restore a less cumbersome task for both users and IT admins. Ease of use and the ability to fix issues with speed is what makes Deep Freeze a preferred option among system administrators. Deep Freeze harnesses the 'reboot to restore' technology to provide quickest and simplest ways of system restoration. When installed and activated, the software rolls back devices to a pristine configuration with each reboot. It therefore does not demand high level of technical expertise, and can be managed by users themselves. In an ecosystem where Deep Freeze is deployed, IT administrators can ensure complete system recovery with each reboot, which helps them provide each new user with a clean system to work with. The software also has a central management console to provide single point control over the entire network of systems, be it in a library, an office, or a cafe. This reduces maintenance expenses. Another feature which provides an edge to Deep Freeze is that it is compatible with the latest as well as older versions of the Windows OS. This essentially means it can also be used in computing environments where different devices have various Windows versions.