Scaling Your Business with Affordable Virtual Assistants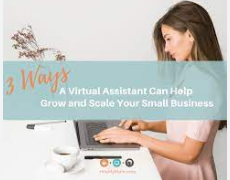 Scalability is critical in today's fast-paced business environment. Leveraging the power of affordable virtual assistants is one cost-effective and efficient option for growth, whether you're a startup trying to expand or an established business looking to grow.
This blog article will discuss how using virtual assistants to scale your business can be a game-changer.
Cost Efficiency
Increased operating expenditures are a common side effect of corporate growth. However, you can control your costs by employing Affordable virtual assistants. Since they often operate independently, virtual assistants don't require an office, equipment, or employee benefits.
These cost savings can be put back into growing your workforce, developing new products, or marketing your company.
Access to a Global Talent Pool
The flexibility of virtual assistants' locations is one of its main benefits. This indicates that you have access to a varied talent pool with a wide range of abilities.
You can employ virtual assistants with different specialties, such as administrative work, social media management, and customer service. Thanks to this diversity, you may scale your firm in a more adaptable and agile way.
Increased Productivity
You and your core staff must prioritize strategic initiatives over day-to-day work if you want to grow your company. You can focus on high-priority work by delegating regular and time-consuming duties to virtual assistants.
Your business's growth and decision-making processes may be sped up due to this enhanced productivity.
24/7 Support
Global marketplaces are open 24/7, and clients anticipate help at all times. You can offer around-the-clock customer service with virtual assistants in various time zones, ensuring that a worldwide clientele can always access your company.
Increasing client satisfaction and loyalty, which are crucial components of scaling successfully, can be the outcome.
Scalable Workforce
You might see shifts in workload as you grow your company. You can grow your staff up or down by hiring virtual assistants without dealing with the hassles of hiring and firing personnel.
Without the commitments of a regular employee, you may quickly respond to market shifts, seasonal demands, or unique initiatives.
Expertise on Demand
As your organization expands, you could need specialized expertise for particular projects or efforts. You can use the expertise of virtual assistants when necessary rather than hiring these people full-time. This helps you save money while ensuring access to the best personnel for each job.
Streamlined Processes
Virtual assistants are used to working remotely and frequently use various technological resources and communication channels. By incorporating virtual assistants into your company's operations, you may adopt more effective and streamlined procedures, cutting down on the time and work needed for project management and cooperation.
These adaptable and affordable experts offer a variety of advantages, from cost-effectiveness and access to a global talent pool to greater productivity and scalability.
By including virtual assistants in your growth strategy, you may travel the road to success with more agility and efficiency.
Are you prepared to advance in your business's scaling? Discover the world of accessible virtual assistants and how they might support you in achieving your growth objectives.