Social Distant to Social Good during COVID-19 #Do1Give Day Launches Globally to Spread Happiness in the World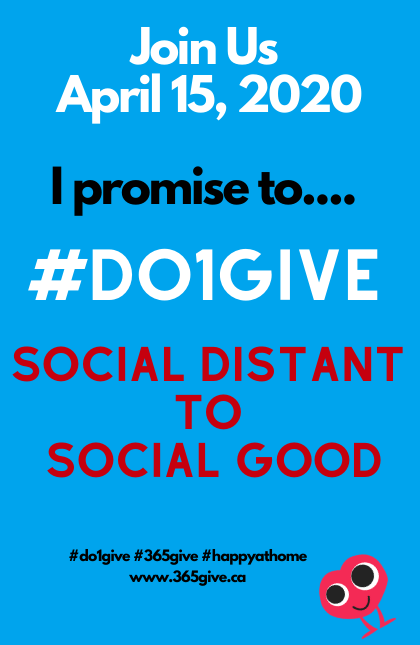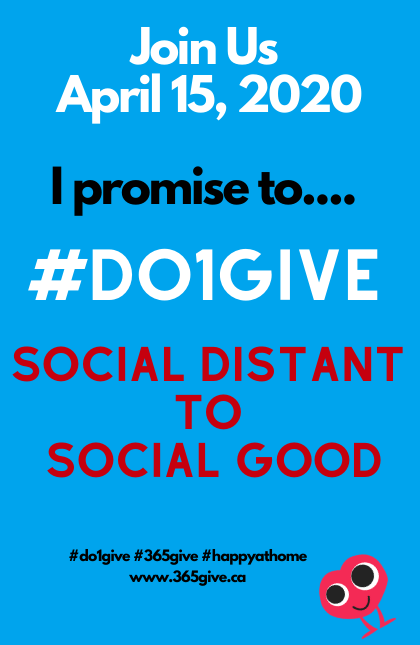 #Do1Give Day on April 15th will be a virtual day of giving from home to change the news from fear and sadness to hope and happiness all over the world.
Vancouver, Apr 10, 2020 (Issuewire.com) – 365give, a charity based in Vancouver, will be hosting a virtual #Do1Give Day to inspire a global day of giving from home. The event happens on April 15, 2020, to further the vision of 365give, which is to encourage daily giving and fulfill their mission "to change the world, one give, one day at a time" by taking social distance to social good. 
Due to the global Covid-19 pandemic, 365give is encouraging giving from home to create happiness around the world on #Do1Give day.  
"We recognize that our world is going through a tremendous crisis right now and that is why it is more important than ever to be kind to your neighbors – all around the world. Having one day of giving can create a ripple effect of happiness worldwide and spread joy in this time of uncertainty," says Jacqueline Way, 365give Executive Director.  
Since its inception in 2018, #Do1Give has inspired more than 150,000 acts of giving worldwide and the aim is to keep the momentum going in 2020.  
On April 15th, 2020, people from all over the world can sign up for #Do1Give Day individually,  with family and friends, or colleagues as well as on social media, for an act of giving that will help change the world on one momentous day. 365give.ca has tools and ideas for virtual giving from the safe isolation of your home so that everyone can take part in this worldwide event.  
Give, share and play the virtual tag game (#tagURit). Anyone can take a picture or video of their #Do1Give activity and post it to social media with the hashtag #Do1Give #365give, tagging friends and family to join in as well and continue the giving.  
The initiative started in Vancouver, Canada with one child and his mother giving back to the world every day for 365 days and has now spread globally – creating a ripple effect of giving with the goal of changing the world. #Do1Give is an event like no other that can inspire and create a happier world.  
About 365give: 365give is a charitable organization dedicated to inspiring and educating the hearts and minds of people to create lasting positive global change through daily giving – Together we will change the world one give, one day at a time. Find out more about 365give at
Media Contact
365give
7783227703
Source :365give
This article was originally published by IssueWire. Read the original article here.
Source