Spatial Computing: Apple Releases Apple Vision Pro To Dominate The VR Market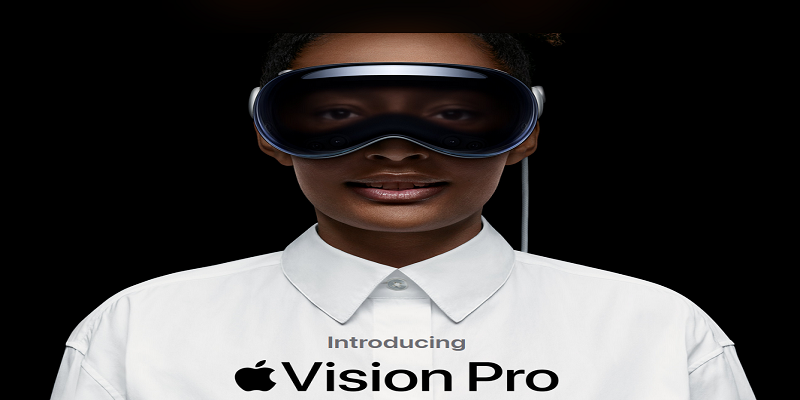 Introduction
Apple products have been on the top note of technology since the release of its first product (Apple I) which was introduced in 1976. Today, Apple has released another groundbreaking gadget named Apple Vision Pro, Apple Vision Pro brings a fresh perspective to robust, personalized computing by transforming how users engage with their favourite apps, capture and revisit memories, savour breathtaking TV shows and films, and connect with others on FaceTime.
Release Date Of Apple Vision Pro
Apple today, June 5th, 2023, unveiled Apple Vision Pro, a revolutionary spatial computer that seamlessly blends digital content with the physical world while allowing users to stay present and connected to others. Vision Pro creates an infinite canvas for apps that scales beyond the boundaries of a traditional display and introduces a fully three-dimensional user interface controlled by the most natural and intuitive inputs possible — a user's eyes, hands, and voice. Featuring visionOS, the world's first spatial operating system, Vision Pro lets users interact with digital content in a way that feels like it is physically present in their space. The breakthrough design of Vision Pro features an ultra-high-resolution display system that packs 23 million pixels across two displays, and custom Apple silicon in a unique dual-chip design to ensure every experience feels like it's taking place in front of the user's eyes in real-time.
During the release, Tim Cook, Apple's CEO said,
"Today marks the beginning of a new era for computing, just as the Mac introduced us to personal computing, and iPhone introduced us to mobile computing, Apple Vision Pro introduces us to spatial computing. Built upon decades of Apple innovation, Vision Pro is years ahead and unlike anything created before — with a revolutionary new input system and thousands of groundbreaking innovations. It unlocks incredible experiences for our users and exciting new opportunities for our developers."
Mike Rockwell, Apple's vice president of the Technology Development Group also said,
"Creating our first spatial computer required invention across nearly every facet of the system. Through a tight integration of hardware and software, we designed a standalone spatial computer in a compact wearable form factor that is the most advanced personal electronics device ever."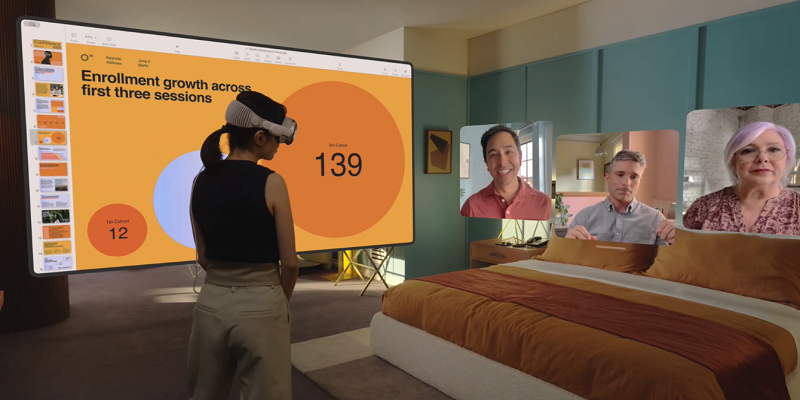 Features of Apple Vision Pro
Apple Newsroom, on their official website listed these new features below as what users will see when they purchase the product. An expansive canvas for apps both at work and home: visionOS showcases a three-dimensional interface that liberates apps from the confines of a display, allowing them to appear side by side at any size. Apple Vision Pro empowers users to enhance their productivity with limitless screen space, access to beloved apps, and novel multitasking capabilities. And with support for Magic Keyboard and Magic Trackpad, users can set up their ideal workspace or seamlessly integrate the potent powers of their Mac into Vision Pro, wirelessly creating a massive, private, and portable 4K display with impeccably sharp text.
Immersive entertainment experiences: With its dual ultra-high-resolution displays, Apple Vision Pro can transform any location into a personal movie theatre, offering a screen that feels as wide as 100 feet and an advanced Spatial Audio system. Users can indulge in movies, TV shows, and breathtaking three-dimensional films. Apple Immersive Video presents 180-degree high-resolution recordings with Spatial Audio, while an exciting array of immersive videos transports users to entirely new realms.
As Apple's inaugural three-dimensional camera, Apple Vision Pro enables users to capture, relive, and immerse themselves in cherished memories accompanied by Spatial Audio. Users can access their photo library on iCloud and view their photos and videos in life-size proportions, boasting vibrant colors and remarkable details.
During FaceTime calls on Apple Vision Pro, participants benefit from the device's ability to utilize the surrounding space. Everyone on the call is displayed in tiles that are true to life-size, while Spatial Audio creates the impression that participants' voices are emanating from their actual locations.
Apple Vision Pro introduces a brand-new App Store where users can explore apps and content from developers and access an extensive collection of familiar iPhone and iPad apps that seamlessly integrate with the new input system for Vision Pro.
Leveraging the engineering expertise honed over decades in macOS, iOS, and iPadOS, visionOS was purposefully designed to meet the stringent low-latency requirements of spatial computing.
Apple Vision Pro also incorporates EyeSight, an extraordinary innovation that facilitates users' connection with those around them. When someone wearing Vision Pro encounters another person, the device appears transparent—allowing the user to see them while simultaneously displaying the user's eyes. When users are engrossed in an environment or using an app, EyeSight offers visual cues to others, indicating their focus of attention.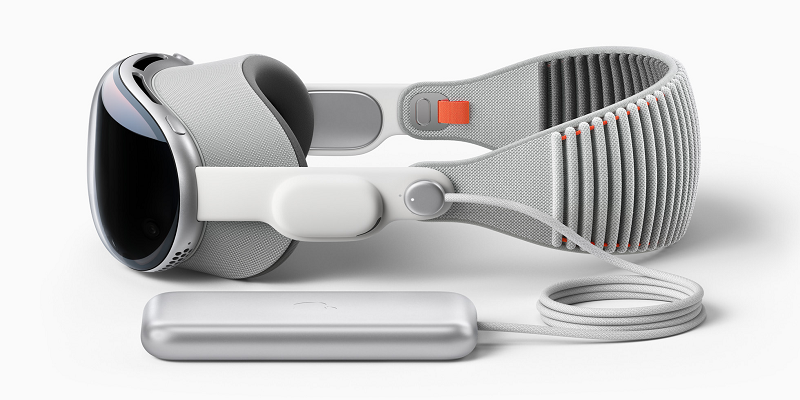 Price And Availability
According the Apple newsroom, Apple Vision Pro will be priced from $3,499 and will be accessible early next year on apple.com and at Apple Store outlets in the United States, with additional countries following suit later in the year. Customers will have the opportunity to discover, experience, and customize their Vision Pro at Apple Store locations.
Conclusion
Since its groundbreaking unveiling of the Macintosh in 1984, Apple has been at the forefront of revolutionizing personal technology. Presently, Apple remains the global leader in innovation, offering a diverse range of cutting-edge products including the iPhone, iPad, Mac, Apple Watch, and Apple TV. Additionally, Apple continues to drive progress through its five software platforms: iOS, iPadOS, macOS, watchOS, tvOS, and now VisionOS.