Start Online Business in Minutes Linux Reseller Hosting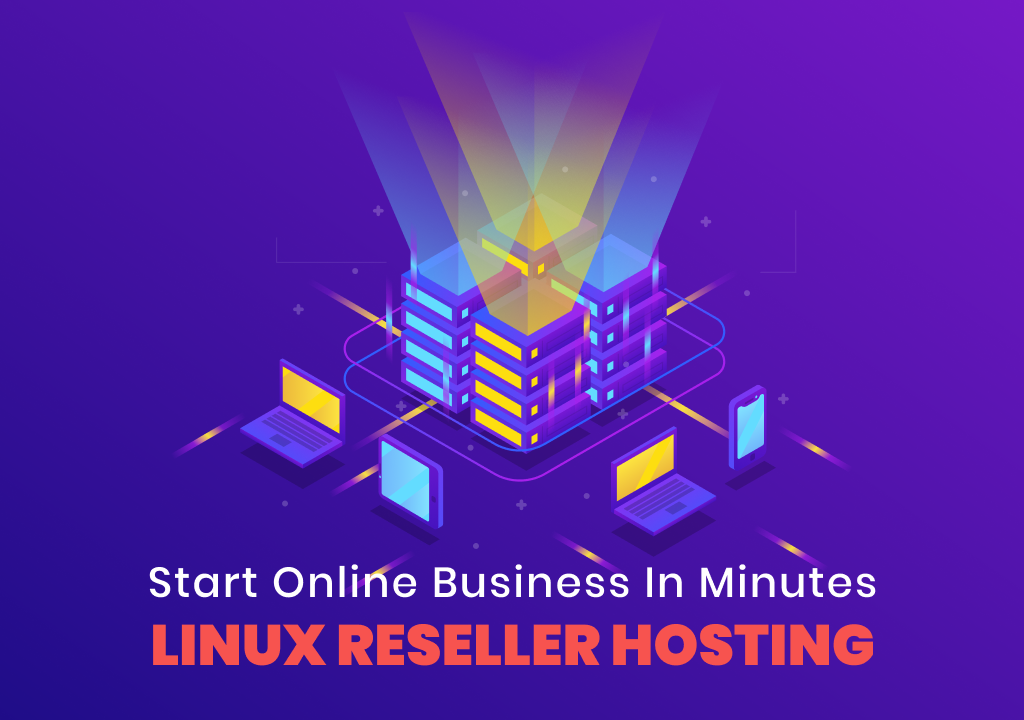 What exactly is Reseller Hosting?
Reseller Hosting gives you permission to create sub-packages within the Disk Space and Bandwidth which is allocated with your main package. Some people use WHM to create custom packages for their clients. you can host multiple clients through reseller hosting and it also allows them to manage their own orders independently. If you don't know how to manage your own web server or datacenter and want to become a web hosting provider then Reseller Hosting can help you in this. You can create your own custom web hosting plans on hosting infrastructure, by using your brand name and sell it to your customers!
In reseller hosting, the hosting vendor's customer is capable to provide hostings to its own clients. It seems like the customer was already hosting the company.
How does Reseller Hosting Work?
The reseller hosting helps you to begin your own web hosting business and also helps to expand it. In Reseller hosting, you just need to buy the host's services wholesale and then you can sell them to customers at more cost to get profit. In Linux Reseller Hosting, you don't need to set up any infrastructure or you don't need any customer support which is the best benefit of reseller hosting.
There are lots of Advantages of Reseller Hosting.
• Reseller Hosting offers great opportunities to make money by hosting and developing websites
• You can create your own customized packages/plans to suit customers.
• Reseller hosting helps to bill customers and sell more plans and keep profits
• You can create independent control panels for each of your clients using reseller hosting
Many people are using reseller hosting because reseller hosting plans help to earn money. These plans are the least expensive and easiest way to launch a hosting business.
If you are thinking about having a hosting account, the question can arise in your mind whether you prefer Linux hosting or Windows hosting. To go further you need to understand how you are building your site.
Linux and Windows two are different types of operating systems. Linux is considered more secure and efficient than Windows, and it also has more of the features web designers expect than a window.
What Is Linux Reseller Hosting?
Linux Reseller Hosting is a platform where every hosting provider presents to their valuable customers or third parties. To host the online business, the hosting vendors lease some space and through this, you can administrate your company. Linux Reseller Hosting is very cost-effective. It is the best user-friendly hosting solution that works as an open-source for every business person.
Linux Reseller Hosting services are the best hosting services, among other hosting services as it offers simple login access and comprehensive Cpanel control for the entirety of your Emails, website composition, content management, database, and documentary requirements.
There are Various Advantages of having Linux Reseller Hosting.
• Since this is an open-source technology, so the user does not have to pay any licensing fee.
• Its scripting languages are more compatible.
• You can easily switch to different hosting software.
Easy Setup for your Linux Reseller Hosting:
Building your own web hosting business is now easy with Reseller Hosting. Some flexible Linux Reseller Hosting plans allow you to create customized hosting plans. These plans come with unmetered disk space and ample bandwidth. Every plan consists of WHM/CPanel and this provides you an intuitive GUI which permits you
to assist in the process of hosting websites, supporting clients, and 1-click-install scripts.
Features of Linux Reseller Hosting:
1. Free Reseller Hosting Account:
You can easily resell domains, hosting, Email, and more. You just need to upgrade your free domain reseller account on the particular reseller program to sell domains, hosting & other products.
2. 30-Day Money-Back:
If you are unhappy with your purchase then you can get a full refund. If there is an issue and you wish to claim a refund, you'll get a complete refund within the first 30 days of your reseller hosting plan purchase.
3. Free WMH & Cpanel:
You can create and sell flexible web hosting plans. You can easily host a website through a free Cpanel offering. Some hosting providers give you permission to create & modify unlimited custom hosting accounts with easy management of clients. You can easily manage the upgrading/downgrading of your account.
4. On-call Support:
They provide you with 24×7 Expert Support for Hosting Resellers. You can get fast solutions to all your queries with 24×7 live support. Some services have trained Linux reseller hosting experts who can help you in giving quality and experienced support.
5. Softaculous installer:
You can easily install WordPress, Drupal & E-Commerce apps like Magento & Prestashop and other applications with Softaculous Installer. You can easily automate the installation of multiple web applications to your websites.
6. Protected by Cloudflare:
The best Linux hosting provider provides you Cloudflare which includes services like DDoS Mitigation, Content delivery network, internet security services, and distributed domain name server services.
7. Performance Optimised:
Best Linux reseller hosting plans offer you high-performance processors, fine-tuning hosting architecture, and networks to deliver a best-in-class experience to power your Reseller Hosting Business.
8. Basic Email included:
The best Linux reseller hosting offers its customers the ability to create accounts for their domain. IMAP secure email helps you to access email from every device.
9. Seamless Upgrades:
Sometimes server resource constraints can interrupt your work. If you don't want any interruption then you can choose cPanel Migrations.
10. Free Hosting Migration:
Some providers consist Website Migration team which helps you with cPanel to cPanel hosting migrations.
Who Needs Linux Reseller Hosting?
If you have more than one website and you want to provide hosting services to many clients but don't have any technical knowledge, then Linux Reseller Hosting is the best option for you.
Apart from this, you need Linux Reseller hosting when your website is based on Linux applications and tools. Compatibility helps to speed up your server's functionality. The most used languages and web technologies (PHP, MySQL, and XML) also supports Linux hosting .