Tim Haldorsson and Raman Shalupau on Learning about Web3 in 2022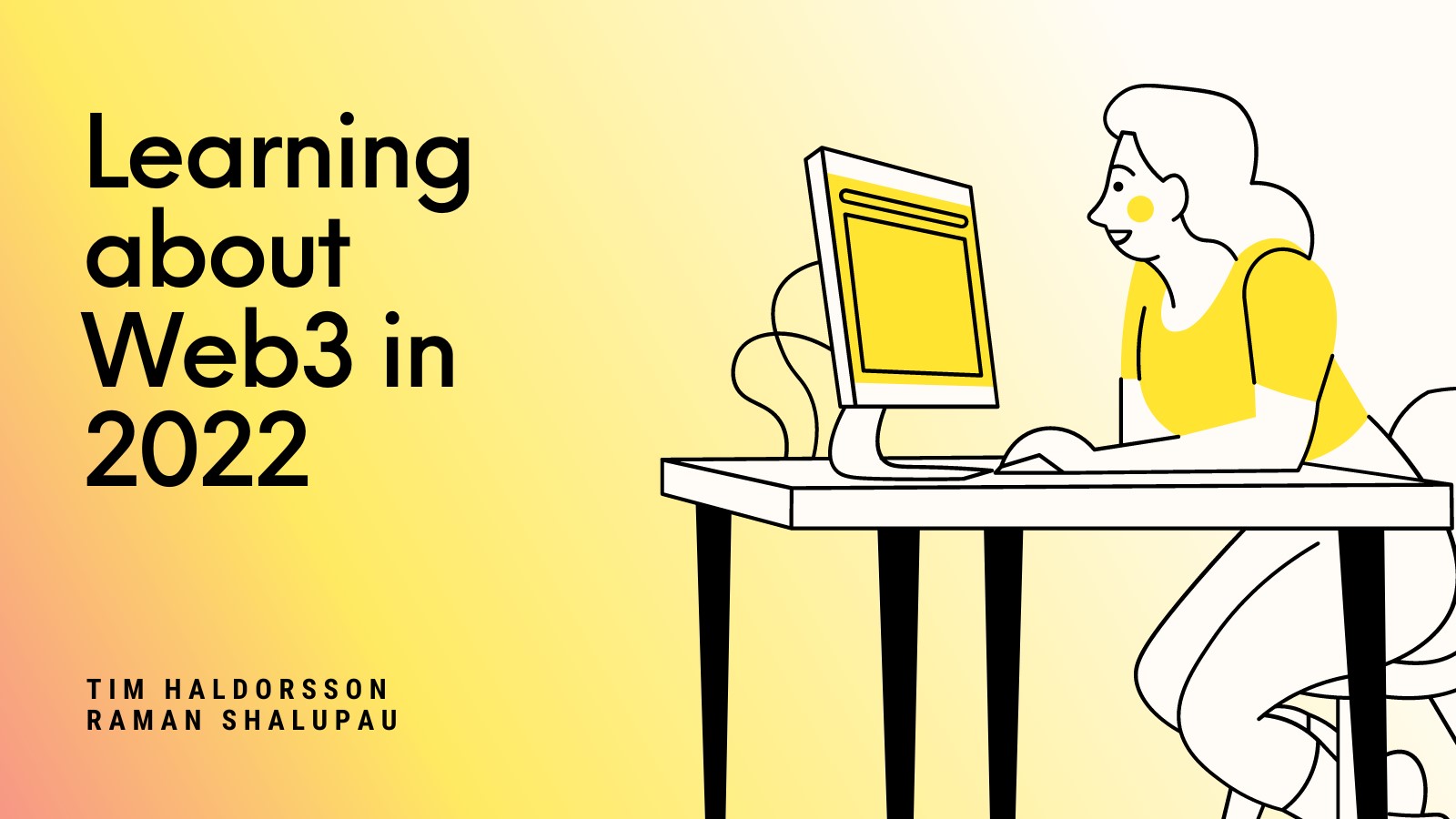 Introduction to Raman Shalupau
Raman is the founder and CEO of Crypto Jobs List. Having spent years as a software engineer writing code and building products that solve problems, he decided to create the Crypto Jobs List platform in 2017 when he started looking for a new job and has since then focused on building and promoting the platform. Today, he's one of the best in the Web3 space at connecting top companies with exceptional web3 talents.
Crypto Jobs List is the #1 site to find and post jobs. A platform where anyone looking to work in crypto can connect with web3 companies hiring in a few clicks and begin their next experience in the industry, featuring both technical and non-technical positions.
Crypto Jobs List has been mentioned in Forbes, CNBC, The New York Times, The Entrepreneur, CoinDesk, and many other reputable media outlets in the blockchain industry. Clients include OKX, Binance, Doodles, Certik, Arbitrum, Parity, and many others. 
Introduction to Tim Haldorsson and Lunar Strategy
CEO and Founder of Lunar Strategy Web3 marketing agency.
Tim is also a speaker at Web3 events, always sharing his knowledge about Web3 marketing and the Web3 space.
Author of 2 crypto marketing books and contributor to Cointelegraph, NFT Plazas, and other leading publications.
Q: In a few years, Gen Z will be the majority of the workforce. Thinking about that, if I have just graduated from university, and want to find a job in Web3 within six months. What do I need to do today?
Raman – The near and dear to every Gen Z's heart is Tik Tok. And I think there are a lot of opportunities there to just focus on crypto content. And of course, don't do financial advice. Don't try to tell people, this coin's gonna blow up. I think in certain jurisdictions you might even go to jail for giving financial advice. So please do not do that. 
But a good idea is to educate people on some key terms in crypto, in Web3, educate people on what different platforms exist and give some educational knowledge if you see a good blog post, maybe you wrote it, summarized it, and present it in the video format.
Another approach is to get an internship. Internships are not that common in the industry. And the main reason for that is most projects are looking for people who are experienced and can start contributing from pretty much day one. There are, however, a few mid-scale or larger-scale companies that offer internships. And I think some of the other methods that we mentioned earlier are: joining a community on discord or contributing perhaps creating memes. Meme creation is another underestimated skill. I think people underestimate how difficult it is to catch the latest vibes and trends that people like to retweet.
Tim – I think what has happened with TikTok over the years is that it has been taken over by people that are paid to review different projects. It's always important when you watch crypto-related TikTok and YouTube videos to understand that quite often the person in the video probably has a financial incentive to do so. So that's important to know.  
Concerning the question, let's say you have just graduated and have six months to find a job.
One important thing is to understand how the ecosystem works. It's important to see if there are some events in your area that you can go to so that you can start to understand the vibe, maybe talk to some people and get into understanding the crypto ecosystem. Back to what Raman said, I think the two core platforms for job sourcing in Web3 are LinkedIn and Twitter, 
On the basic level is to have a good profile. Of course, it's a little bit difficult if you don't have a lot of experience. However, what you lack with experience, you could compensate with passion. You can show this by writing the summary of an article, creating memes, or creating value in other ways that you can post on your profile.

On Twitter, you can start to follow some people in the industry if you see that they're posting about something that you're interested in, research a little bit about it and comment. So I think the first step would be to get into the industry, maybe talk with some people, then go to TikTok and YouTube to learn a little bit there. However, be very careful about people trying to get you to join their multi-level marketing scheme.

Look for crypto-related events to attend. There is a free app called Meetup, where you can find tons of crypto events in major cities near you. Set up your Twitter account and LinkedIn accounts, and start posting content.

Be clear about what you're looking for. If you're looking for a community manager job, add that to your bio and explain a little bit about what value you can bring to the project. And suppose you spent six months educating yourself and being on Twitter and LinkedIn. In that case, I think it would be quite easy to find a job, and if your first job is an

entry-level

position, be happy and take it as a first step into the industry. As I mentioned before, there are not a lot of internship opportunities. From a company's perspective, an internship requires a considerable time investment, and time is something that many companies don't have.
Q: What do you think about learning either through courses or good quality information available on the internet? How does one leverage these courses and information to learn?
Tim – Earlier this year, we were onboarding several new positions. We created different presentations and materials on what we have learned over the last few years in the Web3 marketing ecosystem. The presentations turned into video sessions covering all areas of growing Web3 projects. That's why we launched Lunar academy, a Web3 marketing course.
Our head of PR prepared a presentation about PR, our social media manager had a presentation about the role of social media in Web3, and influencer marketing did the same too. We created the course to ensure that everyone within our company had the fundamentals regarding Web3 marketing. However, since then, we've made it available to everyone and have been offering scholarships to anyone that contacts Lunar Strategy to learn the difference between Web2 and Web3 marketing. 
After the course, there are a lot of marketing positions to be filled. But when it comes to marketing positions, a lot of them require you to understand Web3 and how it works. That's why education is also important and why people taking our course can apply for a job at the Crypto Jobs List website, where Raman is working with leading crypto companies and helping them find the best talent in the market.
Raman – We do not have a course and no plans at the moment, but we're working with Lunar Strategy and a few others that primarily specialize in technical upskilling or technical kind of re-skilling. Suppose someone comes from a more traditional engineering background and wants to quickly pick up solidity, rust, or other technologies and learn about them. In that case, I think joining a course is very valuable. 
Even if you feel that you are already experienced in your field and have several years of experience, it's still helpful to join a course to know the latest and the best practices.  It is also an excellent way to differentiate yourself while applying to positions because, quite often, a lot of courses work with hiring partners like the Crypto Jobs List, where we do our best to find the right opportunities for the candidates. After all, we already know that the course reviews these candidates and that they learn specific skills.
Of course, job searches and hiring are challenging for both ends. So getting a job is not a guarantee. However, taking a course or following the tips we share today helps with the job search and perhaps finding your first freelance position, part-time position, and transitioning into a full-time position.
When searching for online courses, you must ensure that it's a reputable academy or boot camp. Many people are trying to capitalize on the craze to sell overpriced courses that are not necessarily high quality. It's essential to see who is partnering with those courses and how much track record they have.
Wrapping Up
We hope that you gained some perspective on how to go about learning about Web3. Lastly, if you're very keen to gain employment in blockchain, make sure to bookmark Crypto Jobs List – the #1 job site in crypto.