Twitter Update Disappoints Android Users
Twitter released an update to their app on the Google Play store six days ago (20/06) only to be welcomed by a great volume of negative comments and reviews from app users that have simply had enough! I do admit, I was part of the pitch-fork-armed crowd that is currently demanding answers as to why the Android version consistently delivers nothing but disappointments, bugs and useless features we don't need (ei. the new "floating bar").
The new app promises easy navigation stemming from few UI improvements and a timeline layout. After updating the app, it was hard to document my experience because I didn't notice any changes whatsoever.
This is what they promised us…
…and THIS is what I got instead.
The app remained the same and if anything, the entire app simply turned blue. My timeline page no longer has the "Momens" feature and I could no longer "View Activity" on any of my tweets. Majority of the app users share reviews with the same experience while others have expressed different problems.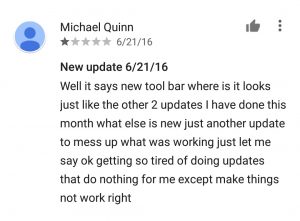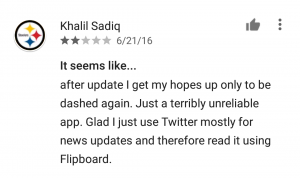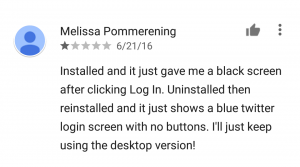 The bad roll-out will require some heavy rectifying not only to Android users but to prospective new tweeters. Companies like Twitter and Facebook are more than capable of launching simulatneously on both the App Store and the Play Store. The marketing tactic used here is that they will launch to society leaders first like iPhone users, in order to build anticipation among Android users. The problem here is that during the 1 or 2 week waiting period, there is essentially no one testing the android app any further and reporting any bugs or feature redundancies. So in the end, a crappy app that costs less to fix is rolled-out, causing a greater expense for the company to repair both PR-wise and on the technical end.
The Twitter Support Ticket Disclaimer form tells its applicants that they do not respond to individual complaints but are always "listening to try and give you a better experience in the future." Which means we will only get a fix on the next update.
What do you think of the new Twitter update?