Understanding Hydraulic Bursting Strength Tests: A Comprehensive Guide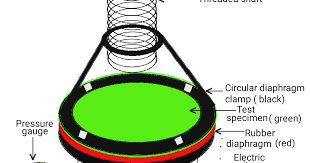 Table of Contents
Introduction
What is a Hydraulic Bursting Strength Test?
Why are Hydraulic Bursting Strength Tests Important?
Materials Tested Using Hydraulic Bursting Strength Tests
The Equipment Used in Hydraulic Bursting Strength Tests
Procedure for Conducting a Hydraulic Bursting Strength Test
Interpreting the Test Results
Applications of Hydraulic Bursting Strength Tests
Advantages and Limitations
Key Considerations for Accurate Testing
Safety Precautions
Future Trends in Hydraulic Bursting Strength Testing
Conclusion
Frequently Asked Questions (FAQs)
Introduction
In the world of materials testing, the hydraulic bursting strength test plays a pivotal role in assessing the strength and durability of various materials. This comprehensive guide will take you through the ins and outs of hydraulic bursting strength tests, from their significance to the testing process and beyond.
What is a Hydraulic Bursting Strength Test?
A hydraulic bursting strength test is a laboratory procedure employed to measure the strength of materials, particularly those made of paper, cardboard, textiles, or other flexible materials. This test assesses a material's ability to withstand internal pressure before rupturing or bursting.
Why are Hydraulic Bursting Strength Tests Important?
The importance of hydraulic bursting strength tests cannot be overstated. Manufacturers rely on these tests to ensure that their products meet specific strength requirements, enhancing product reliability and safety. Whether in packaging, textiles, or construction, knowing a material's bursting strength is crucial.
Materials Tested Using Hydraulic Bursting Strength Tests
Hydraulic bursting strength tests are employed to evaluate a wide range of materials. These include:
Paper and Cardboard: Used extensively in packaging and printing industries.
Textiles: Assessing the strength of fabrics for various applications.
Medical Devices: Ensuring the integrity of products like surgical gloves and catheters.
Construction Materials: Evaluating the strength of flexible materials used in construction.
The Equipment Used in Hydraulic Bursting Strength Tests
To conduct a hydraulic bursting strength test, specific equipment is required. This typically includes a hydraulic chamber with a diaphragm or rubber bladder at one end, which is responsible for applying pressure to the test specimen.
Procedure for Conducting a Hydraulic Bursting Strength Test
Test Specimen Preparation: Cut a circular or rectangular specimen from the material to be tested.
Sealing: Ensure the specimen is airtight by using adhesive or clamps to seal its edges.
Mounting: Position the sealed specimen in the test apparatus, over the diaphragm.
Hydraulic Pressure Application: Gradually introduce hydraulic fluid into the chamber, monitoring the pressure as it builds.
Monitoring: Continuously monitor the pressure until the specimen ruptures, recording the pressure at which this occurs.
Interpreting the Test Results
The bursting strength is typically reported in units such as pounds per square inch (psi) or kilopascals (kPa). A higher bursting strength value indicates greater resistance to bursting, signifying a stronger material.
Applications of Hydraulic Bursting Strength Tests
Hydraulic bursting strength tests find applications in various industries, including:
Packaging Industry: Ensuring packaging materials can withstand pressure during transportation.
Textile Industry: Testing fabric strength for upholstery and industrial clothing.
Paper Industry: Assessing paper and cardboard strength for packaging and printing.
Medical Industry: Ensuring the strength of medical devices.
Construction Industry: Evaluating the strength of flexible construction materials.
Advantages and Limitations
While hydraulic bursting strength tests offer valuable insights into material strength, they have their advantages and limitations. Understanding these can help in better decision-making regarding material selection and application.
Key Considerations for Accurate Testing
To ensure accurate test results, several factors must be considered during hydraulic bursting strength testing. These include specimen size, testing conditions, and the rate of pressure application.
Safety Precautions
Safety is paramount when conducting hydraulic bursting strength tests. Proper training and adherence to safety guidelines are essential to prevent accidents and injuries.
Future Trends in Hydraulic Bursting Strength Testing
As technology advances, hydraulic bursting strength tests are likely to become more precise and efficient. Stay tuned for innovations in this critical materials testing method.
Conclusion
In conclusion, hydraulic bursting strength tests are indispensable tools for evaluating material strength across various industries. Understanding the testing process, interpreting results, and considering safety precautions are essential for successful testing and product development.