Why Keywords are the Most Important Factor in Google Search Result?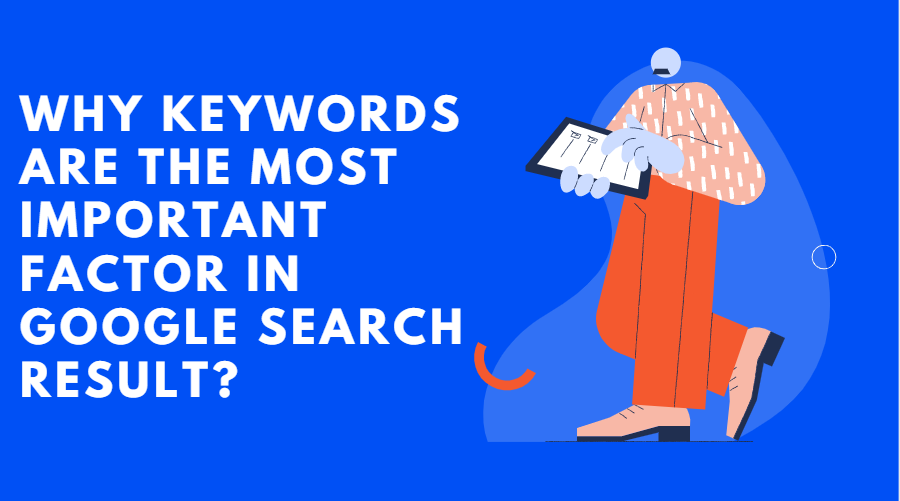 Google search results perform one of the most important roles for business-owners and brands. Today, many local businesses and brands are migrating to online space in quest of better opportunities. The cyberspace does offer a lot of new horizons and vast boundary-free access to potential consumers. The catch is that you have to educate and draw the customer into your sales funnel. To make it possible, first, you would need a unique website and next to a strategy to make your website rank higher in SERPs. The search engine results return potentially the best answer to your search queries. The algorithms of the search engines sort the most relevant and valuable piece of content. Then it ranks them higher than others so that users get the required information in the beginning.
The 'keyword' is a phrase or combination of industry-specific terms that drive organic search traffic to the SERPs. In short! If you found out the relevant keywords, then you can easily drive more consumers to your website, e-commerce store or blog. For this purpose, you need to perform keyword research. Nowadays, it is more important than ever before to have keywords that are focused on searcher intent. For business and brand, it's important because only by including the right keywords you can influence the consumers.
The core question is "How to find the right keywords"?
Marketers spend a lot of time on keywords researching for their clients'. When you have a small business to run, it's obvious that you can invest only a dedicated budget amount in capturing the online market. That's when a marketer's come into the picture to help business owners grab the opportunity to rank their website higher in the SERPs. The marketers perform keyword research tasks to find out the right keywords for their clients.
Finding the right keywords is important because you might want to craft high quality and useful content around them to help your audience quickly find out answers to their queries on your website. Luckily, some online tools can help you to explore the world of keywords. In the section below, you will find out the two most relevant tools to complete your keyword research task.
Keyword Planner: Google's very own keyword planner tools can help you to find keywords that are relevant to your niche. You can search and find out even long-tail keywords. Apart from it, the keywords planner tool can be used to find alternative words and relevant phases.
Auto Suggest: Or, you can go for some simpler yet detailed tools like Google's auto-suggest. All you need to do to find the relevant keyword is type the search term into Google and you'll see the suggestion for related search on the bottom of the webpage.
Finding the best keywords
Once you start working on the keywords soon you will be able to notice the common mistakes marketers make. The same mistakes are done again and again in SEO keywords research, for example:
Doing keyword research only once.
Delaying or not bothering to update SEO keyword list
Targeting only competitive keywords
The term 'SEO Keyword' has no other distinction outside of the marketing realm. Since marketers perform keyword research mostly as a part of their SEO strategy, hence the term 'SEO Keyword' came into the picture. The process of finding the best keyword is an ongoing and evolving part of SEO Experts. These processes also include a re-evaluation of the previously selected keywords. The aim is to capture a variety of keywords that point to the same service and help your business/brand to reach a standard level of diversity using the tools aforementioned in this post.
In case, the tools don't work up to your expectation then you can try out: –
More SEO: This is one of the top three free SEO keyword research tools that give access to thousands of keywords.
Targeted SEO: In case you want sometimes dynamic, sometimes that allows you to filter keyword results by industry or country then this Targeted SEO keyword tool is for you.
Grouping SEO: Lastly, the third tool called a grouping SEO keyword will help you learn how to organize your SEO keyword into effective groups.
Fortunately, because of these tools, it's easy to match the expectation and reality of keywords. These tools are free and 'beginners' who just entered into the world of marketing can leverage them to pick up the pace. The mission is to narrow the search down for each product and service you offer. The vision is to make SEO work for your business and brand. Now, once you have found out the best keywords, next, it's important to keep them to get better SEO results. The key is to find a balance, use relevant keywords that get higher-attention and optimize your website to target each keyword. Of course! You can sprinkle the keywords all over the webpage, but avoid overfitting keywords on the content.
Appearing In Google for Your Keywords
To show up on the SERPs you must use the relevant keywords, but that's not it! You must also understand the following two most popular strategies of digital marketing. The understanding of these two strategies will help you to rule out your competition. Moreover, these two strategies can bring more organic traffic to your website.
SEO (Search Engine Optimization): A simple process of optimizing the web pages. The result includes a better rank in Google's organic results, consistent stream of 'free' visitors and more potential customers.
PPC (Pay per Click): For marketing and advertising your business or brand use this strategy. PPC or pay per click strategy is developed to give maximum benefits to the users. For PPC campaigns you have to pay Google to show your web pages in SERPs. In this case, Google acts as a platform that allows you to choose keywords and bid on them.
No matter! Whether you have a fancy e-commerce store, or a brand that supports the ecosystem – without keywords, your website won't rank. In other words, to get your message to the maximum number of people it's important to have a strategy that delivers the best keywords. Keywords are such important factors that choosing the right one can have potentially endless benefits on your business and brands.
The four metrics that will help you to choose the right keywords: –
Search Volume
Understand that search volume is the estimate of the monthly searches for a search query, for example, "how to fix a broken pipe" could have 25k volume, whereas, "how to fix a car" may have 35k volume. The learning here is that the keywords can vary in popularity. Now does that mean that it's always better to rank for "how to fix my car" – well, that is not completely right! Because there is no point to rank for car fixes when your business or brand is about fixing pipes, gutters, windows and roof.
Search Intent
Intention plays an important role whether you are travelling, finding your partner or preparing a report. Likewise, search intent also has a role in the realms of keywords. One of the most common problems that marketers, business owners and brands face is that people search for the keywords, but they are not ready to buy! In other words, they are landing on your website just to review, compare and gain insights into the products/service offered. It's easy to know what the searcher wants to see by knowing the search intent. Then you can lean your business, brand and content in the same direction to make more opportunities.
Valuable Keywords
It's easy to get hooked on search volume and intent of the keywords. That's why marketers forget to stop and think about the keyword value. If you want people to pay money to you instead of your competitors then you must invest in relevant high-value keywords. Although deciding the value of a keyword is a bit tricky. For example: if you sell houses, then perhaps "home consultation" is a valuable keyword for you. On the other hand, if some just fix the minor issues in the house, chances are "home consultation" keyword won't be in your top list of the selected keywords.
Keyword Difficulty
Keywords help in getting a better rank in SERPs. Does it mean all keywords are easy? That's quite not necessary! For example: Let's suppose you found out the relevant keyword and there are a lot of people who are searching for the same, even your webpage also matches the search intent. Yet, it could be a difficult keyword, for example, "all recipes blueberry muffins" has a score of 41 on the scale of 0-100, that's quite a difficult keyword to rank for!
Optimize For Your Keywords
The key takeaway of learning about keywords is that you now can move along the optimization part very smoothly. To optimize your content for keywords, include them in your title tag, URL, and sprinkle them throughout the content. Keywords serve as building blocks for marketing and advertising.