Youverify Honored with MEA Markets African Excellence Award for Most Innovative Full Service KYC Compliance Product 2023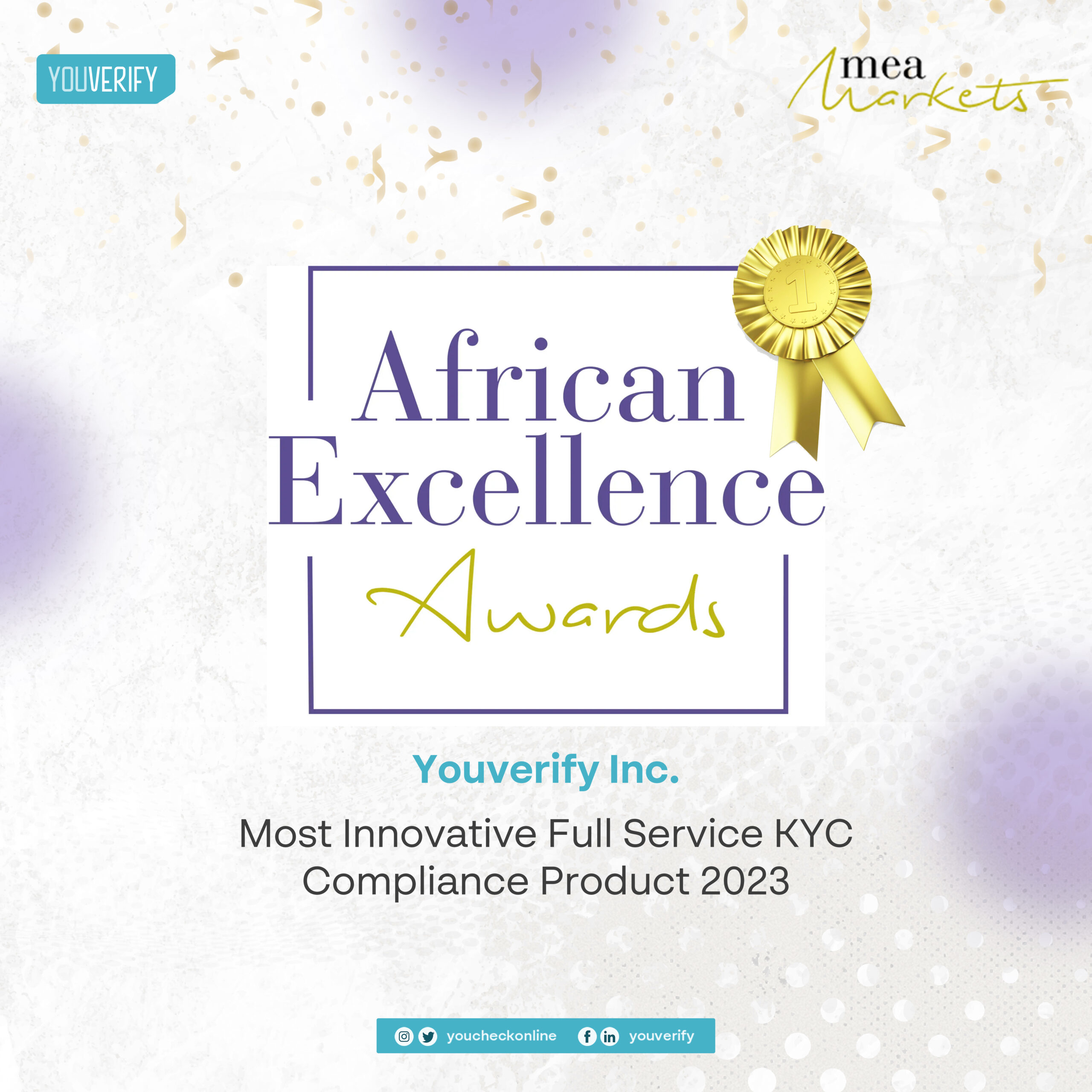 Youverify Inc, was recently awarded the MEA Markets African Excellence Award for the Most Innovative Full-Service KYC Compliance Product 2023. This notable recognition highlights Youverify's commitment to innovation and the key role it's playing in redefining anti-money laundering (AML) compliance practices through effective KYC solutions.
MEA Markets, a well-regarded publication known for comprehensive coverage across the Middle East & Africa, serves as a platform to spotlight industry leaders and their accomplishments.
At the heart of Youverify's ethos is the dedication to revolutionizing compliance through tech-savvy solutions. This award amplifies our pursuit of excellence and our mission to equip businesses with seamless AML compliance tools.
Youverify's groundbreaking achievements in the RegTech sector have positioned the company as a frontrunner in AML compliance solutions. The Most Innovative Full-Service KYC Compliance Product award acknowledges Youverify's dedication to revolutionizing Know Your Customer (KYC) processes through cutting-edge technology and unparalleled commitment to customer satisfaction.
"Gbenga, CEO of Youverify, expressed enthusiasm, 'Receiving the MEA Markets African Excellence Award for our innovative KYC compliance product is truly an honour. This recognition showcases our drive to push boundaries and empower businesses with effective AML compliance solutions."
"When we embarked on this path, we envisioned a world where compliance wasn't just a requirement, but a seamless, efficient, and customer-centric process. We dreamt of a future where businesses could navigate the complex landscape of AML compliance with confidence, and where trust and security were paramount," he said.
Speaking on the award, Hakeem Akiode, the head of Growth and Marketing, Youverify said:
"KYC is the very first step towards achieving AML compliance, it's an aspect key to consider when scaling especially for startups and businesses in Africa. This is why we're excited about this award, a sure testament to the quality of our product and service offerings."
"Our KYC solution is not like every other tool out there; it's a revolutionary force. It's a testament to the power of innovation, dedication, and the unwavering commitment of our team. This award is a validation that we are on the right track, and it motivates us to continue pushing the boundaries of what's possible." he added.
Youverify's KYC solution employs cutting-edge AI-driven technology to verify identities in real-time. This ensures quick and accurate customer onboarding, reducing delays and enhancing user experience. Their solution automates much of the compliance process, reducing manual errors and minimizing the chances of overlooking crucial details. This automation not only saves time but also ensures accurate and consistent compliance practices.
Beyond basic identity verification, Youverify's solution offers enhanced due diligence capabilities. It helps businesses assess the risk profile of customers and partners comprehensively, identifying potential red flags that might be missed by traditional methods. The company's solution also seamlessly integrates with existing systems and processes, enabling businesses to incorporate advanced AML compliance capabilities without major disruptions. This integration enhances operational efficiency and reduces manual intervention.
Overall Youverify's solution places paramount importance on data privacy and security. It ensures that customer data is handled in compliance with regulations, building trust with both customers and regulatory bodies. In essence, Youverify's KYC solution doesn't just streamline compliance processes; it redefines them by harnessing the power of technology. It empowers businesses to stay ahead of regulatory changes, detect and prevent financial crimes effectively, and ultimately create a more secure and compliant environment.
About MEA Markets: MEA Markets is a distinguished quarterly publication that focuses on amplifying major moves and events across the entire Middle East & African region as they occur. It consists of a team of expert contributors, journalists, researchers, and industry insiders who provide 24/7 access to informative and real-time content that keeps readers up to date with key events in the region.